Unknown Ukrainian qualifier Alexander Titarenko went from zero to hero as he defeated the world's best freerunners to take a career-defining victory at the Red Bull Art of Motion 2017 final that was held in Oia, Santorini, on Saturday October 7th.
Titarenko was simply known as the guy in the blue shorts at the start of the week, however he shocked the freerunning establishment into remembering his name with his stunning victory, with the highest score in the competition's history.
He served notice that he was a serious contender after wowing the judges and his fellow competitors during the onsite qualifier, and held that winning form through to the all-important finals on the classic whitewashed walls of Art of Motion's traditional home in Oia.
While defending champion Bart van der Linden and runner-up Alfred Scott both failed to make it past the heats amid fierce competition, Titarenko dominated with massive moves, flawless flow and confident exuberance.
Delivering a perfect final run, Titarenko set a new all-time Red Bull Art of Motion high score of 415 points, comfortably beating American Nate Weston and local Greek hero and former two-time champion Dimitris "DK" Kyrsanidis into second and third places. He even took home the Best Trick award, too.
Aleksandra Shevchenko from Russia won the Best Female award, bagging her first Red Bull Art of Motion title with a stylish and powerful run.
"I still can't believe it. I set off just hoping to make it through the Onsite Qualifier and suddenly the whole world was congratulating me on this year's victory" Titarenko said. "It's an honour to be among the leading athletes in the world. I'm just shocked."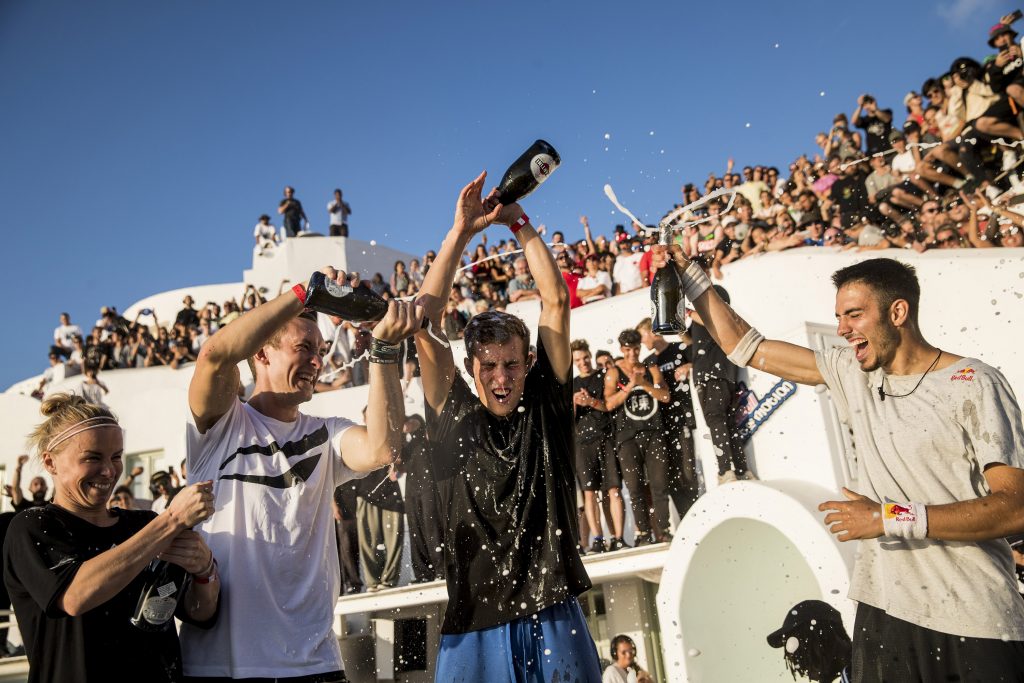 Red Bull Art of Motion 2017 results
1. Alexander Titarenko (UKR) 415 points
2. Nathan Watson (USA) 386
3. Dimitris Kyrsanidis (GRE) 384
4. Calen Chan (USA) 346
5. Pedro Salgado (POR) 330
6. Valtteri Aho (FIN) 309
Best Female: Aleksandra Shevchenko
Best Trick: Alexander Titarenko