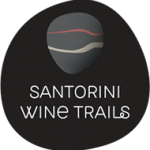 The Santorini experience through winery tours and wine tastings is one of the top things you should do on the island. Over the last few years the wines from Santorini have gained international recognition and become popular. It is no coincidence that the Wine Enthusiast magazine chose Santorini as one of the best wine destinations for 2014! So, make this happen by taking a Santorini Wine Trail!
We daily organize wine tours and tastings at the most representative wineries of Santorini giving you the opportunity to explore, discover and experience the terroir-driven wines of the island and learn about the wine history, the native grapes, the winemaking methods, the basket-trained vines of one of the oldest vineyards of the planet, the gastronomy and the local products of this wondrous place. Experience the wine side of Santorini along with a wine professional by taking the Santorini Wine Trail that suits you well.
Infants and kids are not allowed to join the tours.