Sea Tours | Santorini Sailing – Blue Lagoon Cruises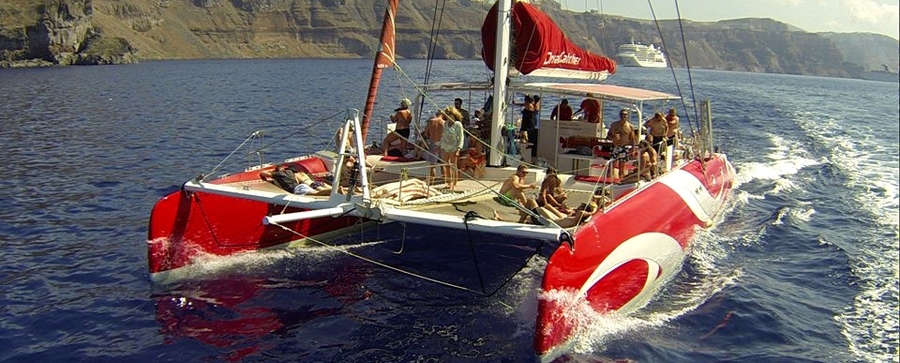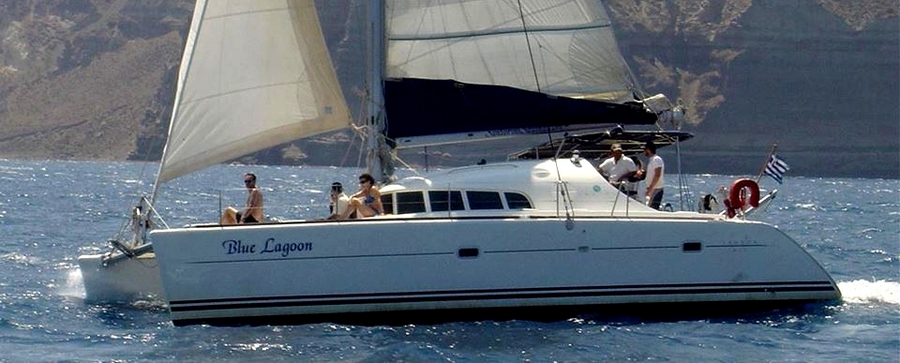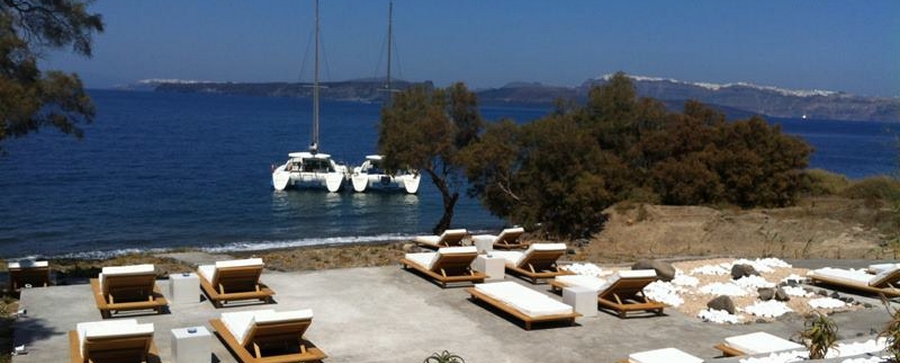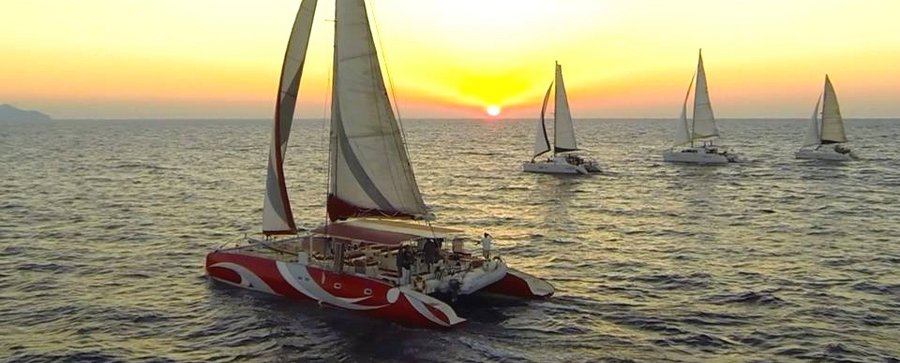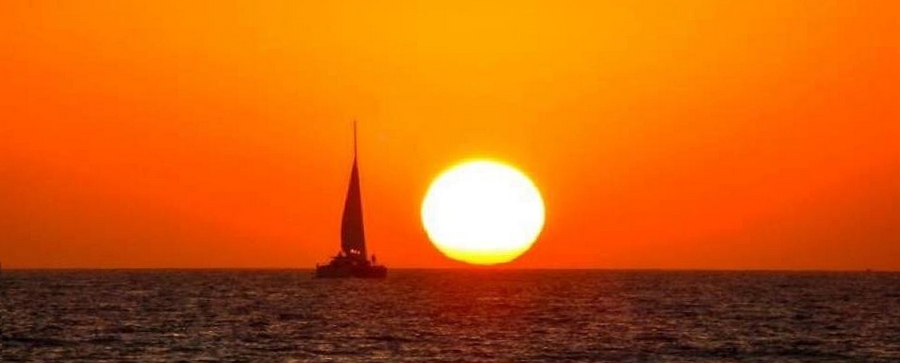 The sailing tours run only in the summer season, from April to October. The prices displayed are for the year 2016.
Information about the Tour
Captain Ted Stathis welcomes you to Blue Lagoon Cruises. Santorini's original and best sailboat / yacht charters and catamaran sailing tours.
Enjoy your special day on Santorini's most luxurious and well-equipped yachts. Our expertise in coordinating functions for small and large groups will ensure that your day with us will be an event that you and your guests will remember long after you have left beautiful Santorini. With us, there's truly something for everyone. And time for everything…
Blue Lagoon's professional staff is always there for you. Captain Ted and his staff will sail the boat, assist you with the water sports and equipment, implement your special activities, serve your meals and beverages, and help you with anything you desire.
Our crew are highly-experienced sailors and provide knowledgeable, responsive service for all aspects of your adventure. Fluent in both English and Greek, they assure you of a well-organized, fun-filled and safe journey. Sailing the waters of Santorini and the Aegean the crew is very familar with surroundings and can suggest an excellent itinerary for those who are not familiar with area.
Rather than making you "fit" into a predetermined itinerary, we let you set the pace and together we arrange the tour, whether it's for half a day or more…

Experience Santorini's culinary delights while sailing aboard any of our luxurious catamarans. Our award-winning recipes had been featured on the Food Network and encompass the full range of local cuisine.
Every detail of your adventure, including your meals, is custom-tailored to your preferences. The menu for your entire journey is planned with you in advance, and it's guaranteed to satisfy the most discriminating palates. Captain Ted and his crew specialize in healthy, high-energy dishes that enhance active lifestyles. The locals provide fresh seafood, prime meats, pastas, the freshest fruits and vegetables, fine wines and spirits, ensuring the best quality.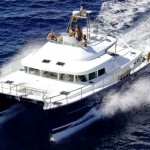 Triton
This 43′ luxury power catamaran is the only one of its type in Greece! It boasts a huge king-size bed in the 120 square foot aft superior suite.
The deck space is over 800 sq ft making this the largest private charter catamaran on Santorini.
The cruising capability is measured at 24 knots and the vessel is equipped with two 315 HP Yanmar turbo engines – the quietest of any speed boat catamaran.
The two decks offer numerous amenities for passengers to relax and take in the incredible views while the crew serves drinks and hors'duerves.
Book this gorgeous catamaran with Capt. Theo Karakiklas to take you around Santorini or to local untouched paradises such as Koufonissia, Mykonos, Anafi, Folegandros, or Sikinos.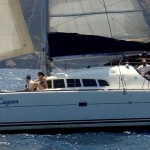 Blue Lagoon II
It is a 41 foot sailing catamaran. 4 spacious suites with specially designed partial side glass hulls that allow natural light in, while keeping the heat out. It also has abundant sun lounging areas aft and forward on weaved netting trampoline. Shaded areas are also abundant in the panoramic bridge deck as well as the solid sun ebiminy located next to the helm station. Great views can be taken in from the bow seats located on the tips of the bows.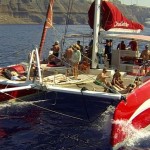 Dream Catcher
For the budget-conscious traveller who still wants to enjoy a Santorini Sailing experience, we offer public VIP cruises for up to 36 passengers on this beautiful 62 foot sailing catamaran.

Day Cruise (10:00 – 15:00)
Depart from Vlihada Marina sailing past the Ancient City of Akrotiri to the Red and White Beaches. Sail past the Indian Head Mountain and Venetian Lighthouse into the picturesque Caldera.
You will visit private bays for swimming and snorkeling. After the Hot Springs, a delicious bbq lunch is prepared in a beautiful secluded bay. After lunch, you then sail past the Volcanic Islands and Aspronisi to Vlihada Marina. Suggested departure time is 10:00am
The price includes: transfer to/from your hotel, quick briefing and safety info onboard, lunch, smorkeling gear.

Semi-privet cruise (up to 12 pax) €165 per person
Sunset cruise (15:00 – until after sunset)
For those who prefer to combine swimming and romantic sunset. Departure time varies with the sunset.
We begin your 5-hour tour approximately 3.5 hours before sunset to ensure a great afternoon of swimming, snorkeling, dining and an unforgettable sunset cruise. You will have the opportunity to visit the Hot Springs, sail past The Volcano, Venetian Light House, Red and White Beaches and the beautiful coastline. Swim at various locations at your leisure. Dinner is served under sail/power dependent on weather conditions.
The price includes: transfer to/from your hotel, quick briefing and safety info onboard, dinner, smorkeling gear.

Semi-privet cruise (up to 12 pax) €165 per person
Public Tour aboard the 62′ sailing catamaran Dream Catcher
For those who want to celebrate special occasions, visit nearby islands and enjoy their day on board without schedule, please contact us at eleni(at)heliotopos(dot)net.

Public cruise (up to 30 pax) €110 per person