The well-known Character on the caldera in Fira decided this year to put some touches of Japanese cuisine apart from the Italian Mediterranean and created the "Moji Sushi Menu". Moji means Character in Japanese and they have a rich menu with nigiri, maki, inside out, sashimi and usuzukuri. Do not worry .. I always try to remember which sushi is the maki, nigiri, or I just wait to taste them!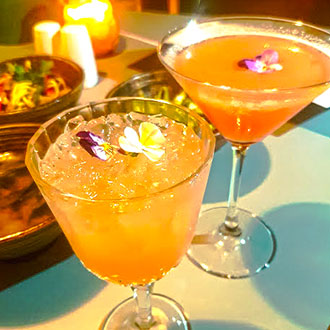 It was a very nice evening and we chose to sit on the lower terrace next to the bar, overlooking the caldera. Moji's drink list has incorporated ideas from Japanese cocktails so we started with Suikawari and Bushido Code. The first one has been named after a Japanese watermelon hit game with its main ingredient fresh watermelon purée. The Bushido Code is based on Japanese whiskey, with guava and ginger syrup.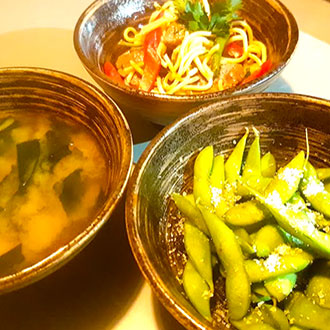 We started "as we should" with a "miso soup". Μiso is a kind of pasta, made from soya beans, sea salt and rice or barley, reminding the preserved fish roe. Ιt contains wakame algae, onion in thin slices and tofu, very delicious! Then we had an appetizer I haven't tried before, a classic dish in Japanese cuisines, edamame. They are fresh green beans, on the pods of the soy plant, which are served with thick salt! We also tried a "salad" with noodles and black angus.
We were ready to be served sushi varieties, with different ingredients in many combinations. Sushi with shrimps with mango, sushi with tuna and sea bass!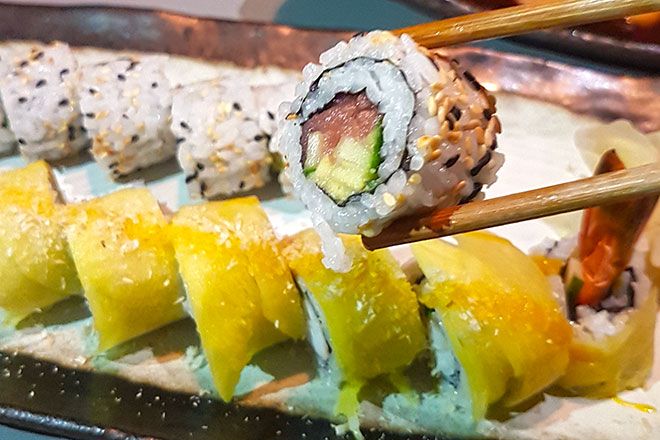 Usuzukuri, served to us with salmon, a characteristic dish of Asian cuisine. Of course we had to eat with the chopsticks, because in Japan 'you are not allowed' to eat them with a fork, better with your hands if you can not!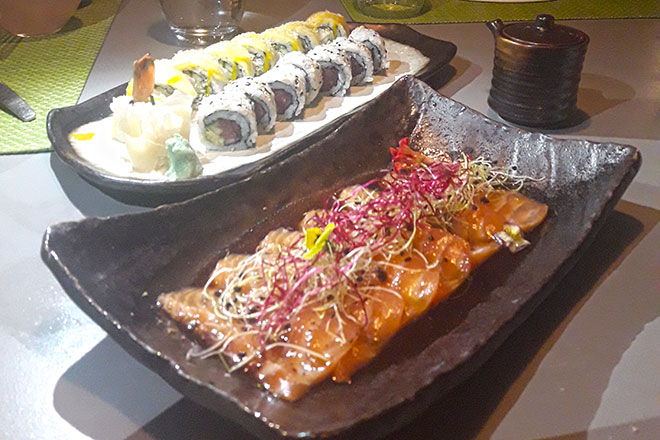 The evening could only be closed with a sushi dessert, chocolate, banana and mango, very fresh and light.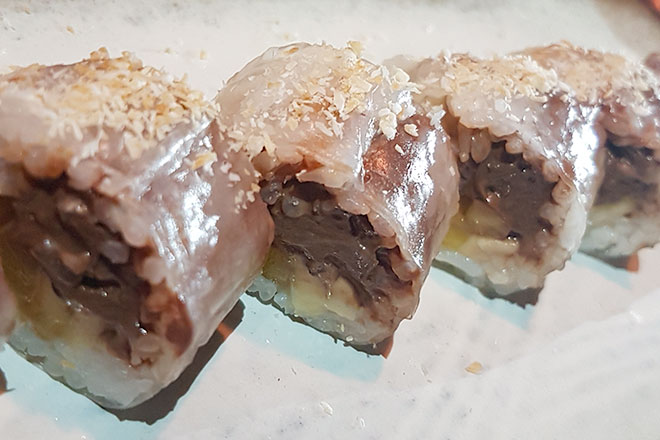 For those who want a memorable evening with an Asiatic touch and beautiful views, their kitchen is open from midday to midnight.
T: 2286021816