The first contact with the Caldera seafloor
by Dimitris Kambanos*
It's been 15 years since the summer of 1998, when the first Diving stations – Diving schools were founded on Santorini and world organization certified divers visited the island to explore the magical volcanic seafloor. It was the year Santorini was brought forward to the map of the international diving community and started attracting divers from all over the world as a different, unique, distinctive seafloor. Today, there are five growing diving centers which dive daily in more than 37 spots in the Caldera, the Volcano and in the perimeter of Santorini and Thirasia.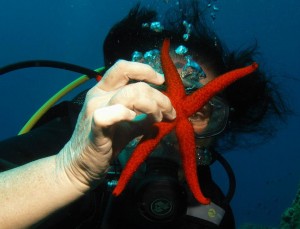 Divers from all over the world opt for Santorini for at least one dive. They consider it necessary for their logbook. Young couples and families seek to have a diving tour either as a first experience or to complete the Open Water Diver Course or even to continue their professional activities to more advanced diver levels.
Santorini stands out both as a special interest and tourist destination, thanks to the particularity of volcanic materials and layered landscapes one can enjoy during an underwater diving tour. Jacques Yves Cousteau's grandson, Pierre, has shown a remarkable interest about the island. He visits Santorini almost every summer and supports the local diving community in every possible way. He also proposes solutions to protect the underwater fauna.
*Dimitris Kambanos, Master Scuba Diver Trainer, PADI (Professional Association of Diving Instructors)
Source: Santorini Guidebook 2013