santorini
– classically: Thera
– officially: Thira
Santorini is the world-famous volcanic island located in the most southern part of the Cyclades group of islands in the Aegean Sea, in Greece. Great poets have sung its praises, a 4.000 year old history. The eternal rock continues to stand, strong and majestic rising proudly from the sea and guarding well the secrets of Atlantis.
discover the santorini e-shop by category
Our e-Shop offers carefully selected Santorini products and souvenirs including wine, ouzo, local food, books, maps & guides, handmade miniatures, gifts, clothing & accessories and many more. We ship worldwide!
WHAT YOU ARE SAYING ABOUT US
Thank you for your feedback!
Hi, just wanted to say thank you so much for all of your help and patience! I received my order so quickly! Perfect timing for a birthday gift!!
Thank you…
Maria
3/8/2023 – USA
Thank you so much. I got yesterday the parcel and the church is so beautiful! Looks so great. On the online shop it looks nice, but in real life its amazing!
Thanks!
Annette
21/6/2023 – Austria
What a wonderful box— and so reasonably priced! I received my box and I was so surprised! The box was very well wrapped and arrived in great condition. All the snacks were high quality cookies, sesame bars, nougat bars, and pretzels, wafer cookies and an assortment of large bags of great cookies I' love nougat and sesame seeds and loved this box! I am not Greek by the way–my parents were French! LOL so don't be afraid to order this box! when I review a box, I will tell you like it is– and I definitely order this box again!
Dianne – On Cratejoy
22/2/2023 – USA
Hi there…..picked up my awesome Santorini wall hanging today and it is perfect!!! It is the same artist as my other ones I purchased when we were there, so a perfect match, yay. Thanks so much for all your care in wrapping it up safely.
All the Best,
Lynn
29/1/2022 – USA
Dear Santorini.net—just letting you know that whenever we receive your email notices during this last year of this pandemic—you have brightened our day. We smile because we think of Greece. To us Greece symbolizes life and that gives us a feeling of hope. Your emails make us feel connected to Greece.
We hope the best for you and that you have safely weathered the difficulties of this past year.
Wishing you a confident and healthy tomorrow and the days to come.
My Best to you,
Terrence
23/8/2021 – USA
Kalimera,
I have just received my order here in New Zealand.
I just wanted to let you know how much I love my blue Santorini clock.
The packaging was very well done and I am also impressed with just how quickly my parcel arrived. I visited your beautiful island a couple of years ago and fell in love with it and the friendly people, and my new clock will remind me of that wonderful time.
Many thanks
My Best to you,
Maureen
13/8/2021 – New Zealand
Eleni was super responsive and wonderful to deal with. Obviously due to the global pandemic it took a little while to ship across the globe, but was packaged with such care. Plate is gorgeous, I loved it so much that I placed another order with this shop upon arrival, and I cannot wait to receive it.
Quality items, made with love.
Highly recommend anyone to purchase from Eleni, especially if
you're missing Santorini ✨
**Shops like these rely on tourism, so it's a wonderful time to support and shop online since travel is currently very limited.**
.
Marissa on Etsy
17/1/2021 – Canada
The ornament is beautiful! The box was destroyed so I was expecting a smashed ornament, but it was a Christmas miracle- perfect condition.
Samantha on Etsy
12/1/2021 – USA
My book has arrived safely this morning in perfect condition. Thank you for packing it so well. Ive been looking for this book for a while and was delighted to see it on your website, it's a beautiful book – I'm very pleased with it.
We were supposed to be coming to Santorini last month but it was cancelled with all that's going on. We've booked again for next year so hopefully we will be visiting your beautiful island in person?
Thanks again for your help and I'll probably be ordering more from you in the future, as you have some lovely things on your website.
Jo
20/8/2020 – UK
I would just like to let you know that our order of wine from you has just been delivered, all beautifully packaged and absolutely no damage!
Thank you so much for a wonderful service and we will order more from your e-shop in the future.
GILLIAN
26/5/2020 – UK
Just wanted to say a huge thank you for getting my Santorini plate to me so quickly. Fantastic service and a lovely item.
We cannot wait to visit your beautiful island again one day and in the meantime we will look at the plate to remind us.
Thank you again
SUZANNE
22/5/2020 – UK
Dear Team from santorini e-shop,
I want to say thank you for your perfect service and for shipping my order despite the corona crisis so fast. So we have a little piece of Santorini at home! We come to Santorini every Year for holidays if it is possible. This year – we will see.
Thank you, you are great!!!
IRENE
15/5/2020 – Germany
Hi Maria,
I wanted to let you know we received the items, they are awesome! I also want to thank you so much for the patches that were included, we are extremely grateful and can't wait to sew them on our backpacks. I will definitely be ordering more items in the future.
Thank you again for everything and your generosity!
RYAN
13/5/2020 – USA
Hi, I received my order in perfect condition. Thank you! I love them.
Take care !
DONNA
5/3/2020 – USA
Delivery happened yesterday. Everything in perfect shape. Impressed by the care you took to pack every single bottle in an immaculate way! 5 star service to say the least!!!
In case we have to cancel our annual trip to Santorini at least we will have some fine wines to make up just a little bit for this loss.
DOMINIQUE
19/3/2020 – Belgium
My order of 4 handmade miniatures arrived yesterday and in very good condition.
Amazon should pack so well!
JOHN
14/11/2019 – USA
Just wanted to let you know I received the packages and all is well. Excited to enjoy the wines.
Thank you very much for your help!
MIKE
8/11/2019 – USA
We are in London and have received the box. Everything is perfectly packed and arrived safely.
Thank you again. We will enjoy it!
JOANN
28/10/2019 – UK
LATEST ARTICLES & news from santorini
Get Inspired! 6 ASPECTS OF SANTORINI YOU SHOULDN'T MISS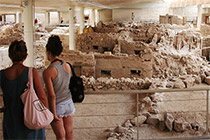 The ancient city at Akrotiri is the most important archaeological site on the island, dated back to 17th Century BC.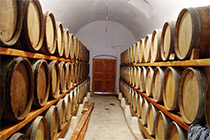 It is worth spending some time to visit some of the wineries of the island. Discover the history of wine on the island and taste the exceptional wines produced in this  volcanic terroir.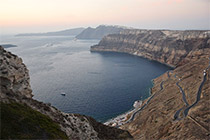 The present-day crescent shape of the island is a consequence of the activity of the volcano in prehistoric times feeding the myth of the lost Atlantis.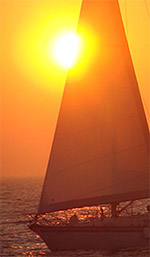 The wild beauty, the fascinating Caldera, the gold sunset… Enjoy yourself during a sea excursion with a catamaran, a sailing boat or a traditional schooner!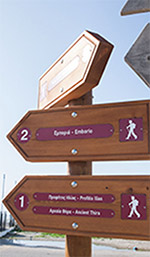 Off-season highlight for trail lovers: Enjoy the very old in existence but recently signed hiking routes.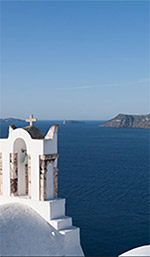 Perfect, year long conditions for observation, photographs and videos under an extraordinary variety of natural lights and colors.
e-shop: Check out our latest Products