Santorini, though small in size, is considered to be a gastronomic destination with some of the finest restaurants, wineries and restaurants throughout the country.
Santorini's cuisine is mainly based on the island's agricultural products. Products nourished by the volcanic soil, the sea breeze and the sunlight of the Aegean Sea. These products have a unique taste. They provide us with top quality ingredients for cooking an original, tasty and healthy food.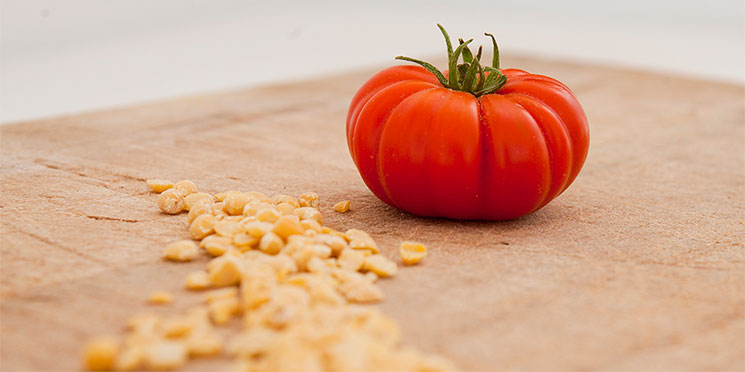 A cuisine full of taste
The most characteristic products of Santorini are:
The Santorini Cherry Tomato (Tomataki)
The famous Santorini cherry tomato is a unique variety that flourishes thanks to the arid soil and dominated the islands cultivating from the 18th to the 20th century. Tomato paste and tomato fritters (a traditional dish of Santorini) are produced from cherry tomato and have a really inimitable taste.
buy Santorini tomato products here
Katsouni
It is a type of a very tasty cucumber.
Fava Santorini (Yellow Split Peas)
Fava Santorini has distinctive attributes as they become mushy on their own, they have a purer aroma and they are tighter. You will find them in many recipes, along with onion, with small pieces of pork, with aubergines and tomatoes, as well as in the form of soup.
buy Santorini fava here
Watermelon
It is small, dark, with many seeds. Santorini's watermelon stands out because of its taste.
Capers
In the island you will find shrubs of wild capers, from which we collect the blossom and the leaves. It has a characteristic sharp aroma and a spicy taste.
buy Santorini caper here
White aubergine
It differs from the others as it is sweet and juicy due to the particular features of the soil.
Courgette
The round shape is its main feature.
These products are the main ingredients of wonderful traditional and more up to date recipes. Look for the tasteful enjoyment provided by both restaurants and tavernas of the island, accompanied always with a glass of Santorini's wine. You will be thrilled by the experience!