Skaros: The capital of Thera under Venetian occupation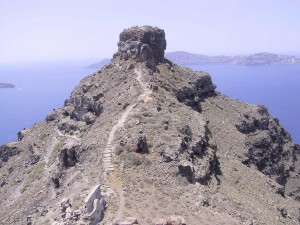 by Clairy Palyvou*
"High up there on the top of the naked, wild rock, where only wild birds could live, the marks of man can now be seen." Elias Venezis, Winds
The impressive rock of Skaros, projecting outwards, as if to break away from the walls of the caldera, is one of the most prominent landmarks of the island of Santorini. The only visible human presence is the chapel of Theoskepasti, facing the caldera, yet this place was once home to a bustling city …
Skaros suffered major damage from the terrible earthquake of 1650 after which the residents decided to abandon the restrictive and dangerous environment of the Castle and the difficult life they led there, and to establish a new center in Fira. However the risk to the island from pirate raids continued and the move was not completed until the last decades of the 18th century when piracy abated. In 1850, all that remained of the site of the old prosperous state were tombs and poultry, according to the traveller, Leycester.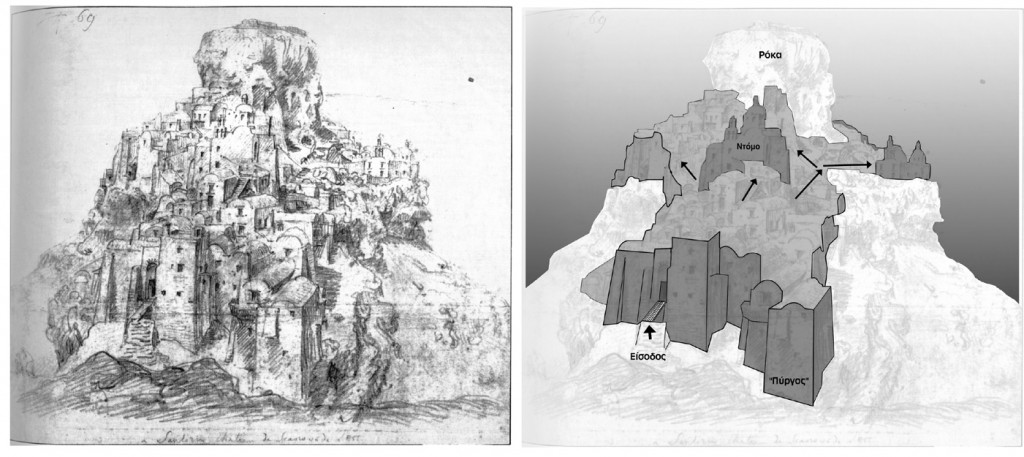 The story begins in 1207, after the integration of the island into the Venetian Duchy of the Aegean. The natural rocky fortress was chosen by the masters as the site of their capital, where they built the ducal palace, the cathedral and the seat of the Catholic Bishop of the island, monasteries and stately homes.
In 1480, the island was handed to Pizanias Domenico, son of the Duke of Crete, as a dowry for his marriage with the daughter of the Duke of Naxos, Princess Fiorentza. The descriptions of the celebrations accompanying the delivery of the castle contain valuable evidence of the city. Approximately one hundred years later the Duchy of the Aegean passed into the possession of the Ottoman Empire.
The leading role of the Skaros community in the spiritual life of the island is evident in the number and importance of the monasteries founded within the castle. One of the oldest monasteries was the Dominican monastery of St. Catherine of Sienna, founded in 1595 by Marino Dargenta, a member of the Byzantine imperial family, Argyrou. There was also intense activity by the Order of the Jesuits, who founded a school in Skaros. Orthodox churches such as St. Irene and St. Theodosia were built in front of the gate of the castle and the Orthodox monastery of St. Nicholas was founded in 1651 by the Hellenized Latin Gizi family. In these monasteries, both Catholic and Orthodox, scions of prominent families of Thera served as monks.
An insight into the city just before the abandonment can be gained by viewing a drawing from the Thomas Hope collection (1788), which is housed at the Benaki Museum. The settlement is depicted as a fortress, with a continuous front of houses with a few small openings, protecting the village from the only possible access from the east. According to F. Richard (1642), the gates closed when there was fear of hostile invasion, and for greater security the gates were reached by a movable wooden bridge, the foundations of which can still be seen today. In the few ruins left standing, you can see remnants of walls, domes and wells. For these buildings time stopped in the 17th century.
* Clairy Palyvou, architect, professor emeritus, Aristotle University of Thessaloniki
Source: Santorini Guidebook