Akrotiri settlement is in the southwestern and most distant edge of the island, 15 km from Fira. Akrotiri became particularly famous for the ancient city that was discovered buried under the volcanic ashes by the archaeologist Spiros Marinatos. His excavation work is being successfully continued by Professor Christos Doumas up to today.
A selected list of publications regarding the archaeological site of Akrotiri as well as a few relevant collectible items, replicas and quality souvenirs are available here.
Worth visiting is the famous Red beach (currently closed for swimming due to landslides). You could also take a little boat, departing from the coast nearby the Akrotiri Archaeological Site to the White beach, Mesa Pigadia beach and Kampia beach. It should be highlighted here that anyone wishing to visit all the aforementioned places could do so in a more fun way by joining one of the available sea tours or cruises.
At the north side of Akrotiri, if you fancy the adventure, you may drive down one of the roads carved on the caldera cliff and reach either the beach of Apothikes or the beach of Gialos (further away and to the west, on the way to Faros). At Apothikes, you will be rewarded by a small beach fitted in the volcanic landscape or, if you prefer, by the services offered by a diving center on-site. 
Another interesting landmark, located at the centre of Akrotiri village, is a Venetian castle that was shattered by a big earthquake on the island some decades ago.
In Akrotiri, there may not be many shops and a wild nightlife, but you will definitely find good accommodation and good food. Several tavernas are located in Akrotiri's port, in the centre of the village as well as on the road towards Faros.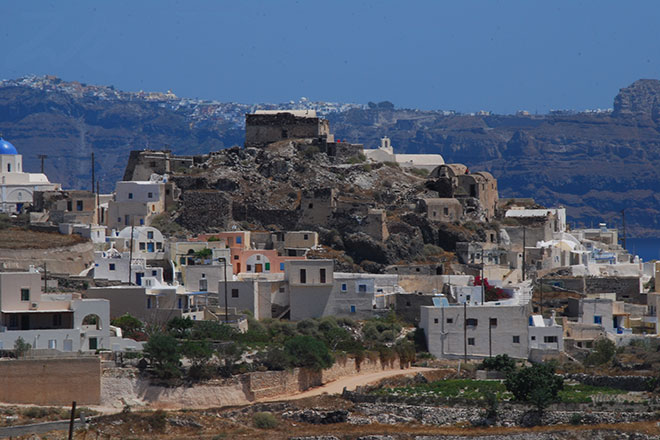 Faros is the lighthouse of the island. From there you will be able to observe the figure of an Indian, up in Mavro Vouno, that looks so natural as if it had been carved by a talented sculptor. According to the testimonies of local residents, this figure had been discovered by Spiros Marinatos as none had noticed it until then. Either in the morning or in the afternoon the view of the endless blue and the rest of the island, from the lighthouse, is magnificent and the sunset is like a dream. In the area you will also find the churches of Aghia Theodosia situated in the castle's entrance, of Aghios Epifanios, of Aghia Triada and the church of Ypapanti that was reconstructed after the earthquake