Oia village is known for its magnificent sunset point of view. Dozens of visitors make their way to Oia every day, to enjoy the sun setting. The village itself has many shops and restaurants/cafes and beautiful architecture and is mainly built on the old path that connects Oia with Fira. If you are not feeling like walking (the nearest village that connects to Oia from the path is Imerovigli, 9 km away) you can get there by car, taxi or bus, but plan ahead in the summer months, as the traffic might cause delays.
The main marble road with the imposing captain houses, the churches dedicated to sailors, the canavas and the raki distillers, are all evidence of the history of this well-kept village, when the wooden ships of Apano Meria (Oia) would cross the Mediterranean carrying the heady sweet vinsanto wine and return with timber, porcelain and silverware for the mansions of captains.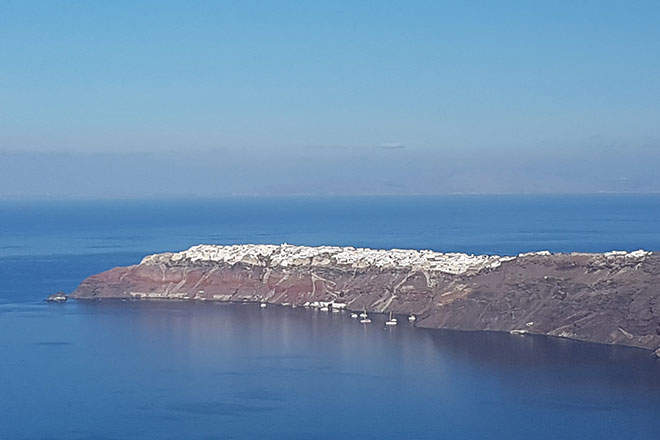 If you fancy a swim, try out the Baxedes and Katharos beaches, or alternatively go for a dip at Ammoudi. Ammoudi is a little harbour in Oia where in the past they used to load ships and wine for export. You can either get there by car, or by walking down 235 steps. We assure you that the walk down is not as hard as it sounds and the food served at the fish tavernas will definitely make up for it. If climbing up the steps after you eat seems too much, ask the staff of the tavern to call for a taxi, it will pick you up from the entrance of the marina.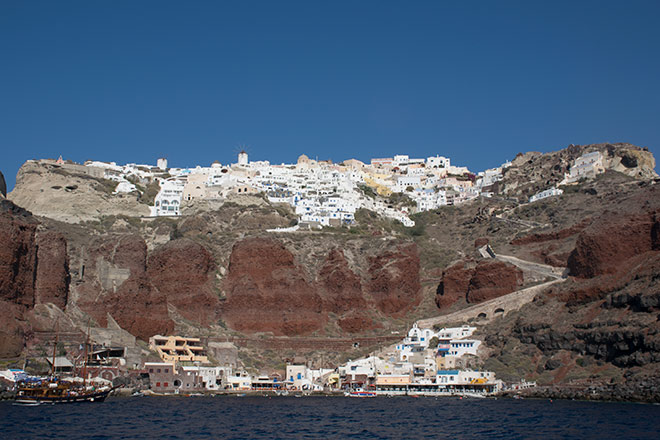 Armeni, the second little harbour of Oia, is a little further on and was used for similar purposes as Ammoudi. You can get there by "lantzes" (private transfer crafts) or by walking down the 291 steps that start from the restaurant "Skala". It is extremely peaceful and picturesque and there is only one taverna left. Armenaki is found between Ammoudi and Armeni. This is another little harbour where you can go swimming, but it doesn't have any shops. The pathway that takes you there might be rough, but the landscape is completely virgin.
A magnificent captain's mansion dating back to 19th century, restored to its original form, houses the Naval Museum. You will find many things to admire there, including old equipment, water-colours, photos and generally everything that has to do with Santorini's great nautical past.
Oia has a district clinic and a pharmacy, some cash machines, a post office, a Citizen Service Centre and an array of shops for everyone. There are 60 churches in the area, many of which have been photographed for post cards. The largest festivals are those of Aghios Georgios, Stavros, Aghios Spyridonas, Aghios Nikolaos, Aghios Savvas and Panagia of Platsani.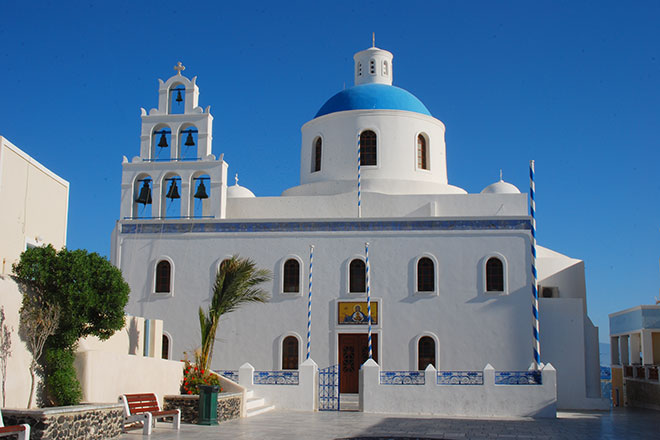 Having overcome the catastrophes caused by economic decline, the earthquake and the volcanic eruptions, Oia is now bursting with life as a model community offering modern facilities. It has been relieved of the overhead electricity and telephone cables that once imprisoned the village and now boasts underground cable, electricity and telephone networks, a complete irrigation and sewage network, a desalting plant for sea water, biological cleaning units and high standards tourist facilities.
Preserving the charm of other ages, the harmonious and peaceful community of Oia invites you to discover its secrets.