Pyrgos village is situated on the center of Santorini, built on the top of the hill. 7.5km from Fira, it has a discreet but dynamic presence on the tourist map.
Arriving at the square of the village leave your car in the parking lot to walk uphill, through the picturesque cobbled streets of the settlement that was declared a listed monument in 1995.
Going to the top may seem a bit tiring but the endless views of Fira, Oia and Messaria villages and valleys will reward your efforts.
Reach the top on time and enjoy one more unique sunset from a different point of view.
Pyrgos has kept its natural beauty without any alterations. A stroll through its alleys will reveal some interesting points of local architecture, as well as the remains of neoclassical mansions. It is a typical fortress settlement of the Cyclades, a relic of the Venetian rule ages. On the top of the fortress stands the castle (Kasteli) that was ruined from an earthquake almost half a century ago. Until then, approximately 70 families lived inside the walls of the castle.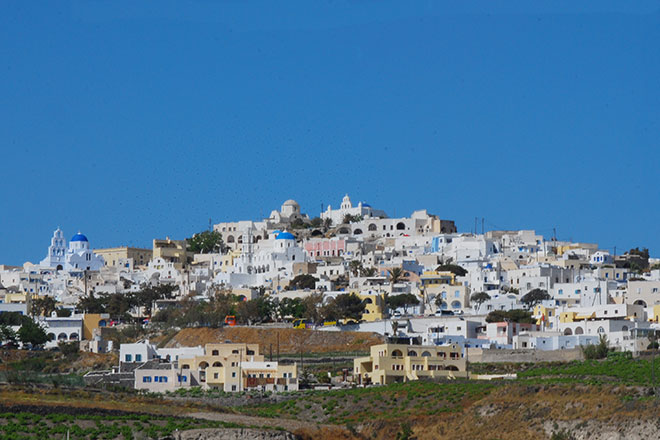 It is recommended to visit the Icons and Relics Collection that houses religious paintings, wooden sculptures, embroideries and other items of ecclesiastic use, mostly dated back to the 17th and 18th century. In the village you will find more than 40 churches; among them is the well known Theotokaki of Koimisis, built in the 10th century. Panagia Eisodia (or Panagia of Kasteli) is the largest church in the village, built in the early 16th century, it has a magnificent wooden icon screen and it is open to the public only in fests.
It is also worth visiting the cultural village "Santorini of the past" where a tour will take you to a different, unspoiled by tourist interventions, Santorini.
At the highest point of the island stands the monastery of Prophet Elias, built in 1711. You can reach it by car or on foot, and you can enjoy from there a panoramic view of the whole island.
If you visit the island during Orthodox Easter – and we undoubtedly suggest you to do so – you should not miss the impressive ceremony of epitaph (funerary march). As a tradition, the children place on the top of the buildings of the village hundreds of tin cans. The tin cans are lit and when you see them from far away the view is unforgettable.
The settlement is inhabited by more than 700 residents. Besides the local tavernas and restaurants that provide very good food, you will also find cafeterias, hotels, galleries and a few shops.