Discover the incredible finds of one of the most important archeological sites in the world, the famous Akrotiri, in Santorini.
The "Akrotiri, Thera. Forty Years of Research (1967 – 2007)" is a printed collection of essays compiled from a two-day Scientific Colloquium that was held in Athens, in December 2007. The book was edited by Christos C. Doumas and Anastasia Devetzi, and was published by the Society for the Promotion of Studies on Prehistoric Thera.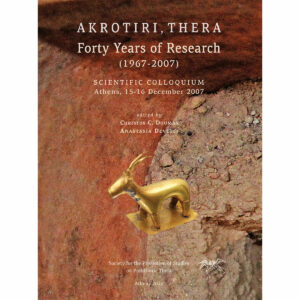 Discover an immense wealth of knowledge from over 40 years of research at Akrotiri, Thera contained within 655 pages. Immerse yourself in detailed essays about a range of archaeological finds, as you read about all sorts of insights that have come to light from this significant historical site. Enjoy sharing these findings through this professional appraisal helpfully presented in English language and printed in 29×21.5cm hardcover format.
Complementing the exciting content contained in this edition is a spirited Foreward written by the editors. Delve into an exploration behind all the findings that have been made since 1967, as you unravel surprises with every page turn! Educate yourself on aspects around archaeology as depicted through incredible records from Akrotiri, Thera – investigations totally worthy of your attention today!
See the table of contents here.
Order the book online here.