Pyrgos village is one of the most picturesque villages in Santorini island, traditional, with its' beautiful main square and so many alleys you could walk around to end up at the very top with a 360 view of the island. I walked around Pyrgos and here are my recommendations on restaurants where you could eat lunch, dinner or even relax having a cocktail.
Pyrgos restaurant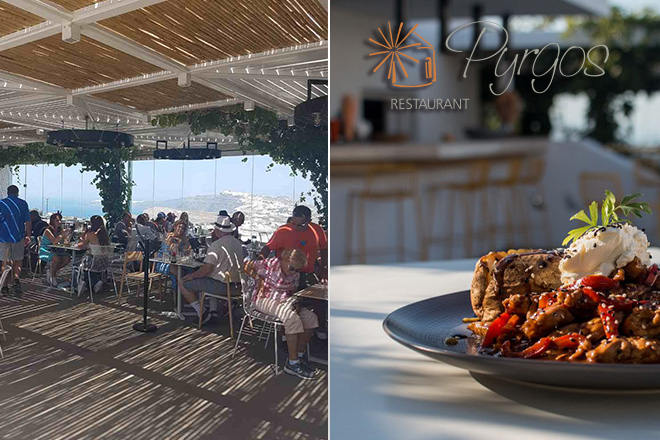 On its 30th season and with big experience on the field, Pyrgos restaurant renovated their outdoor area and opened the "Garden". From midday until midnight, their kitchen is open for lunch or dinner. If you wish to relax drinking a cocktail, they have prepared their bar area with big sofas where you can spend your night under the sound of lounge music. One of the best courses they have on their menu is the caramelized chicken julienne with peppers, honey and Philadelphia cheese.
T: 2286031346 | Website
Kantouni Tavern
As you are reaching Pyrgos' main square, on your left hand you will find Kantouni tavern, which means "corner" in Italian and has been there for the last 22 years, owned by a family. They are open from morning hours for coffee or breakfast and their menu has Greek traditional courses with their kitchen being open until 23:30. The atmosphere will remind you of a Greek movie, with blue tables and wooden chairs. Try the pork skewer served with tzatziki, Greek pitta bread and potatoes.
T: 2286033474 | Facebook Page
Cava Alta
Their love for Pyrgos village brought them to the island 3 years ago, deciding to convert an old cave house into
Cava Alta restaurant. The owners are a lovely couple, Minas came from Athens, Greece and Anna Maria from Spain, so this was more than a good reason for them to join these two kitchens and create their menu. For summer nights their terrace is the perfect place to sit and if it is colder, try their indoor space which is very cozy! One of their new appetizers is fresh pasta with ricotta, Parmesan flakes and black truffle…delicious!
T: 2286033932 | Website
Rosemary
As you are walking through the alleys of the village, you are reaching an old traditional building that has kept its glamour style throughout the years. Rosemary restaurant has a perfect sunset view from its beautiful terrace, where you can enjoy your dinner. Their menu is a mix of Greek and Mediterranean kitchen, with the "Rosemary lamb roast" being one of their top courses, served with bulgur tomato and eggplant.
T: 2286031362 | Website
Botargo
At the top of Pyrgos village in Kastelli, Botargo is an old mansion, offering to its guests a unique experience. You get a panoramic 360 view of the island, where you can enjoy the sunset while having your dinner based on seafood recommendations. They also have a bar inside, ideal for ending your night with one of its exceptional cocktails. Try "Audrey" cocktail, sweet with Brazilian rum, exotic and "summerish"!
T: 2286030070 | Facebook Page
Selene
A restaurant with very big history on the island. 32 years ago the owner Mr. Chatziyiannakis opened Selene in Fira promoting fine Greek cuisine and in 2010 they moved to Pyrgos village. There, they also opened a second restaurant on the same building, "Selene Meze & Wine" that reminds more a traditional Greek tavern. You will find there many special appetizers like "Tuna stuffed leaves with kinoa, herbs and green carp roe salad".
To reach Selene, you may either drive to their main entrance or from the Selene "tavern" you just go up the stairs and you find Selene restaurant. Imposing from the moment you enter with exceptional staff and so many awards on their wall, proving their hard work all these years combined with talented chefs. The dessert that is a must, is the "Vegetable Ode" with parsley root mousse, arugula sorbet, olive oil biscuit, hazelnut and caramel crumble! I don't know how the chef combined all these ingredients, but trust me it is amazing.
T: 2286022249 | Website
---
Any hour of the day, Pyrgos village will impress you the same, as there are so many choices that will make you want to visit again and again!