Akrotiri is one of the most important archaeological sites in the Mediterranean. Located in the southern part of Santorini, it was once an advanced and prosperous society that flourished from around 4500 BC to the late 17th century BC. It was destroyed, however, by the catastrophic eruption of a nearby volcano.
Today, Akrotiri is a major tourist attraction and has become renowned for its well-preserved ruins—including streets with a sophisticated sewer system and multi-story buildings adorned with masterful frescoes—which demonstrate just how advanced this early civilization was.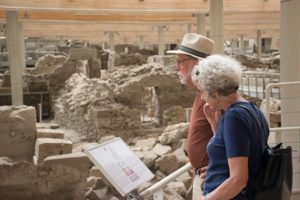 Akrotiri, as a captivating tourist spot visited by people from around the globe, is becoming more accessible than ever before. Pre-purchase tickets online here and explore its wonders with ease! Tickets are 6 euros each and the operating hours until the end of March (winter hours) are 08:30 – 15:30. There are two free admission days (the first Sunday of the month, March 5, and in memory of Melina Mercouri, March 6) when free admission tickets are exclusively issued at the ticket office at the time of your visit. The Site is closed on Tuesdays and also on the 25th of March due to the National Holiday.
When visiting Akrotiri, visitors can get a glimpse into what life was like during this ancient period of Greek history. The city's intricate layout is still visible beneath the modern bioclimatic shelter which covers it today. Visitors can take guided tours to learn more about how people lived here before its destruction, or explore independently at their own pace.
It's easy to see why Akrotiri is so popular with tourists; its unique archaeological remains provide an insight into a past age that is rarely seen elsewhere in Greece or around the world. A visit to this fascinating site should not be missed!