Since 2011, "Assyrtiko De Louros" has been the most exclusive wine of  Hatzidakis Winery.
Haridimos Hatzidakis, always a pioneer, paid careful attention to the variety and the vineyard, making a wine that held all the knowledge and expression of the terroir in a bottle of wine sourced exclusively from one specific vineyard.
Having a long tradition in cultivation and always with respect to the environment, the Hatzidakis Family and the new team of the Winery aim to produce as many wines as possible exclusively sourced from organic vineyards.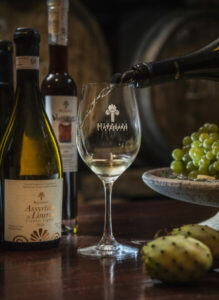 Therefore, after a shocking loss for the wine community and a two-year pause we are once again producing "Assyrtiko de Louros", this time from organically grown grapes. For one more year, the Assyrtiko variety surprised and impressed with its potential. Grapes were sourced from a separate vineyard in the area of ​​Pyrgos from centuries-old vines. The chief Oenologist Stella Papadimitriou, the assistant Oenologist Marietta Samara and Stella Hatzidaki, followed closely the vinification method of Haridimos Hatzidakis for the specific wine.
"Assyrtiko De Louros" vintage 2019 will be bottled in Spring 2021 in 2,500 numbered bottles, certified by DIO.
Order the Hatzidakis wines online here