Our notes on local wine varieties
Notes on the characteristics of Santorini wine and its food pairing ability
As briefly as possible, we present here a few comprehensive notes on the characteristics of Santorini wine, as these characteristics stem from the local grape variety (one or more) that is used in the vinification process. We also share information on the particular food pairing abilities each of the prominent Santorini wines is endowed with due to the influence of the local grape variety it is made from. At this point, we should point out that we are not professional sommeliers and that we proceed to exhibit our personal point of view, as it stems from our everyday experience with Santorini's wine.
Vinsanto sweet wine
The famous Vinsanto sweet wine is a great gift gesture. Vinsanto is a sweet wine that can be served as an aperitif or even better as a digestif after a meal. Vinsanto can also be enjoyed with friends early in the night along with a conversation that, let's say by chance, brings up memories from your latest Santorini vacation. On such an occasion, Vinsanto can be served along with a side of something sweet or bitter sweet, like the chocolate of your preference, or even with dry fruits and assorted nuts.
Aidani, dry and fruity
It is our belief that Santorini's fruity, delicate and aromatic white variety, named "Aidani", makes a great, refreshing aperitif that can be served plain, on its own. It can also be perfectly paired with simple, light appetizers, such as a salad, fruits, light cheese or even shellfish and seafood in general. Of course, a few bottles of Aidani can pleasantly accompany a meal serving poultry grilled or roasted or even cooked in a light lemon sauce.
Mandilaria and Mavrotragano, red, strong and spicy
We should note here that the red varieties of "Mandilaria" and "Mavrotragano" (or the combination of them), we believe, are excellent in accompanying a warm and friendly conversation along with spicy and/or fatty appetizers. These two varieties offer strong, spicy, red, dry wines with characteristic aromas of red, ripe, fruits of the forest. You could also use these wines to impress friends and/or colleagues by inviting them over for a dinner with barbecued or oven roasted or pot roasted red meat (beef or pork) or even poultry cooked in a thick red sauce. In such a case, you could always add those special cheese varieties that you have been experimenting with lately… 😀
Assyrtiko, the robust expression of volcanic soil and sea breeze
Our personal feeling for the famous variety of "Assyrtiko" is that it offers robust and crisp wines with a prevailing taste of volcanic minerality, sea-saltiness and lemon acidity. Due to their robustness, "Assyrtiko" wines are full-meal friendly, that is, they need to be matched with "full-fledged" food, like grilled/fried fish or squid (kalamari), grilled octopus or lobster, roasted chicken or lamb with lemon sauce. "Assyrtiko" wines can be accompanied with salty cheeses as well as with appetizers like oysters and sea urchins.
In addition, Santorini's local fava, pickled capers, fried white-eggplants and tomato fritters made with local cherry tomatoes are, to our opinion, very tasty appetizers that can be paired with an "Assyrtiko" wine. But remember, we are writing this text from Santorini ( 😀 ), we are really keen on the local agricultural products and we truly enjoy their special taste.
A quick clarification here with respect to the "Nychteri" or "Nykteri" wines. They, too, are made of the "Assyrtiko" variety; but the grapes to be vinified to "Nychteri": a) must be picked overnight to avoid exposure to the high temperatures of daytime, b) after the vinification process the resulting wine must be aged in an oak barrel for a time period of three or more months. Due to that particular vinification and aging process, "Nykteri" wines lose some of their minerality and a little of their acidity while at the same time develop a more mature and well rounded character.
*Your dreamy wedding ceremony in Santorini
*Sponsored link: https://weddings.heliotopos.net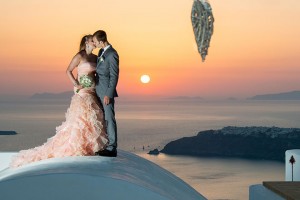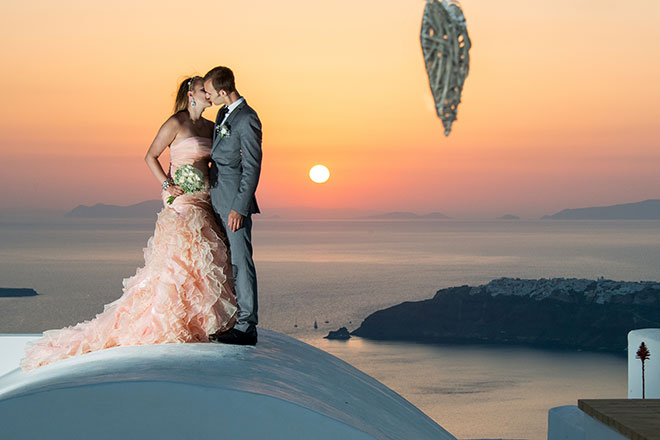 If you imagine a dreamy wedding ceremony that you will remember for the rest of your life, then Santorini is the right destination. The wild beauty, the fascinating Caldera, the gold sunset and the very good weather conditions… Read the full article
*Your dreamy wedding ceremony in Santorini

*Sponsored link: https://weddings.heliotopos.net

If you imagine a dreamy wedding ceremony that you will remember for the rest of your life, then Santorini is the right destination. The wild beauty, the fascinating Caldera, the gold sunset and the very good weather conditions…
Read the full article