Discover the new Greek brand Santorini paysages eau de parfum, founded in Greece. Focusing on the rich Greek flora, the manifold Greek landscape, in accord with the Greek history and culture, they produce contemporary and authentic perfumes, modern in their conception and unique in their smell.
The volcanic complex of Santorin inspires their first collection. In collaboration with a perfumer, who hails from Santorini and works in France, they created three female: Oia, Akrotiri, Vedema and three male fragrances: Lava, Caldera, Kasteli. In their compositions they use a wide spectrum of finest quality materials such as extracts of flowers, precious woods, resins, oils of herbs or citrus fruits.
Meet the perfumes: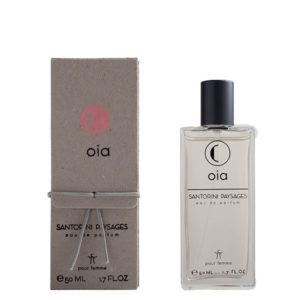 OIA floral green female perfume
Light floral scents freshen up with green leafy notes.  Inspiration: summer night stroll in Oia, night blossoms, bougainvillea. Oia opens with fresh green notes of cut grass followed by the sparkling burst of lemon and bergamot. The light floral heart of muguet, rose and narcissus is leading to bottom notes of white musk and patchouli.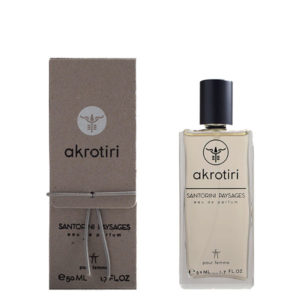 AKROTIRI floral – white floral – female perfume
A rich white floral scent twisted with a hint of citrus notes.  Inspiration: wild lilies on the fresco of prehistoric Akrotiri. The perfume starts with fresh top notes of bergamot and lime, enriched with rich floral scents of jasmine, ylang and white lilies. The white floracy evolves gradually to a sensual creamy and woody accord.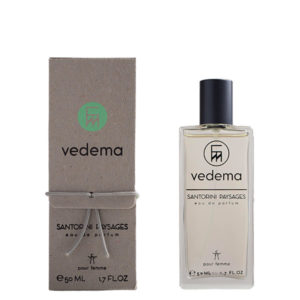 VEDEMA floral woody female perfume
A rich floral-woody accord of sweet grape notes and scents of wooden barrels. Inspiration: vine, barrel soaked with grape notes.  Vedema opens with sweet grape scent infused with notes of honey, dried fruits and black tea, leading to a woody blend of cedar and patchouli.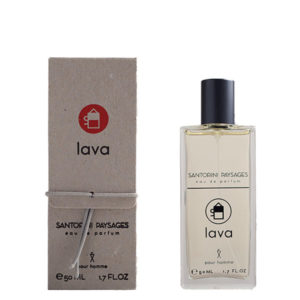 LAVA spicy male perfume
A citrus woody scent, twisting explosive red grapefruit and smoky woods.  Inspiration: volcanic landscape of Santorini. An exuberant eruption of red grapefruit combined with plush notes of geranium and rose, finishing in a delicious woody and smoky trail of vetiver and gaiac wood.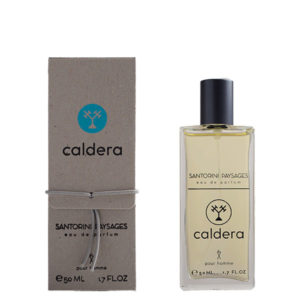 CALDERA citrus marine male perfume
A citrus marine scent, infused with Mediterranean herbs. Inspiration: diving in the deep blue waters of caldera. This perfume opens with sparkling citrus infused with Mediterranean herbs and marine notes of sea salt and ambergris.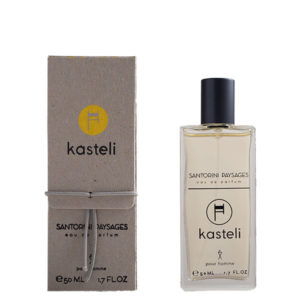 KASTELI woody spicy male perfume
Kasteli blends cedarwood with spicy notes of red pepper, incense and fresh basil leaves.  Inspiration: life around the fortified villages built in Santorin by the Venetians. This woody perfume starts with spices such as pink pepper, juniper berry and nutmeg blended with fresh cut basil leaves. The spicy top is followed by an overdose of cedarwood and hint of resins such as incense.
The products are designed and produced in Greece, according to the European and International fragrance and cosmetic regulations (IFRA48,  European Cosmetic Directive). Furthermore the fragrances have been dermatologically tested and certified by an external cosmetic lab and accompanied by the necessary permits.
Check out our selection of beauty and skincare products inspired by Santorini!