Sealed Earth Gallery is thrilled to announce "Specimens of the Soil," an exhibition spotlighting brilliant Greek artists and their interpretations of Earth as a medium. This is the world of contemporary ceramics, where form, texture, and color come together to tell mesmerizing tales.
Embark on a visual journey by the Aegean Sea, where Stavros Karnakis' vessel is navigating into the deep blue sea waves crafted by Mara Desypris, leading to a sanctuary for Maggy Ioannou's playful dolphins.
On land, experience the rhythmic dance sculpture by Ilias Christopoulos, illuminated by Giannis Zois' lighting nightflowers. Encounter the diverse faces of Giorgos Tserionis' wall sculptures and explore the sensuality in Stella Kapezanou's ceramic expressions.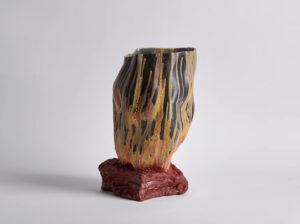 Transport yourself into another world, where clay transforms into collages in the works of Konstantinos Ntagkas and Giannis Mamoutzis, and witness the magical creatures brought to life by Natalia Manta and Nasia Pavlidou.
Marvel at the blooming flowers by Panos Profitis and delicate corals by Stavros Perakis, prompting you to question reality through Leonies Yagdjoglou's colorful and mystical Pythia.
Group show
Christopoulos Ilias, Desypris Mara, Ioannou Maggy, Kapezanou Stella, Karnakis Stavros, Mamoutzis Giannis, Manta Natalia, Ntangkas Konstantinos – Hope, Pavlidou Nasia, Perakis Stavros, Profitis Panos, Tserionis Giorgos, Yagdjoglou Leonie, Zois Giannis
Curated by: Loukia Thomopoulou
Opening: 28 July at 19:00
Exhibition Dates: 28 July – 7 September 2023
Hours 10:30-14:00 and 18:30-22:00.
Sealed Earth Gallery | Vatou Street, Malteza, Imerovigli | tel. +306975811500