My Santorini. Our Santorini. The Greek island that has been so loved by travellers all over the world is a very different island this summer. For us, and for those who first visited Santorini decades ago, this year is magical. Sure, there are problems and worries and uncertainty. But there is also time and space and love. The few tourists that visited Santorini this June had one common comment to make: they felt like they had the island for themselves. Like travellers used to feel in the 70s, 80s, 90s. There is time and space to enjoy the wilderness of the anhydrous land, to take a deep breath and feel like you are one with the landscape. Now is the time to visit Santorini
With travel slowly opening and more and more tourists being allowed to come to Greece and Santorini, those who feel confident travelling, which is a challenge on its own, must also choose a type of vacation away from crowded places. How can you keep your distances and stay safe in a popular place like Santorini? We have put together a list for you with things to do and not do in Santorini away from crowded places and fall in love with this island even more than you expected! You are welcome.
1. Stay in a boutique hotel in a quiet village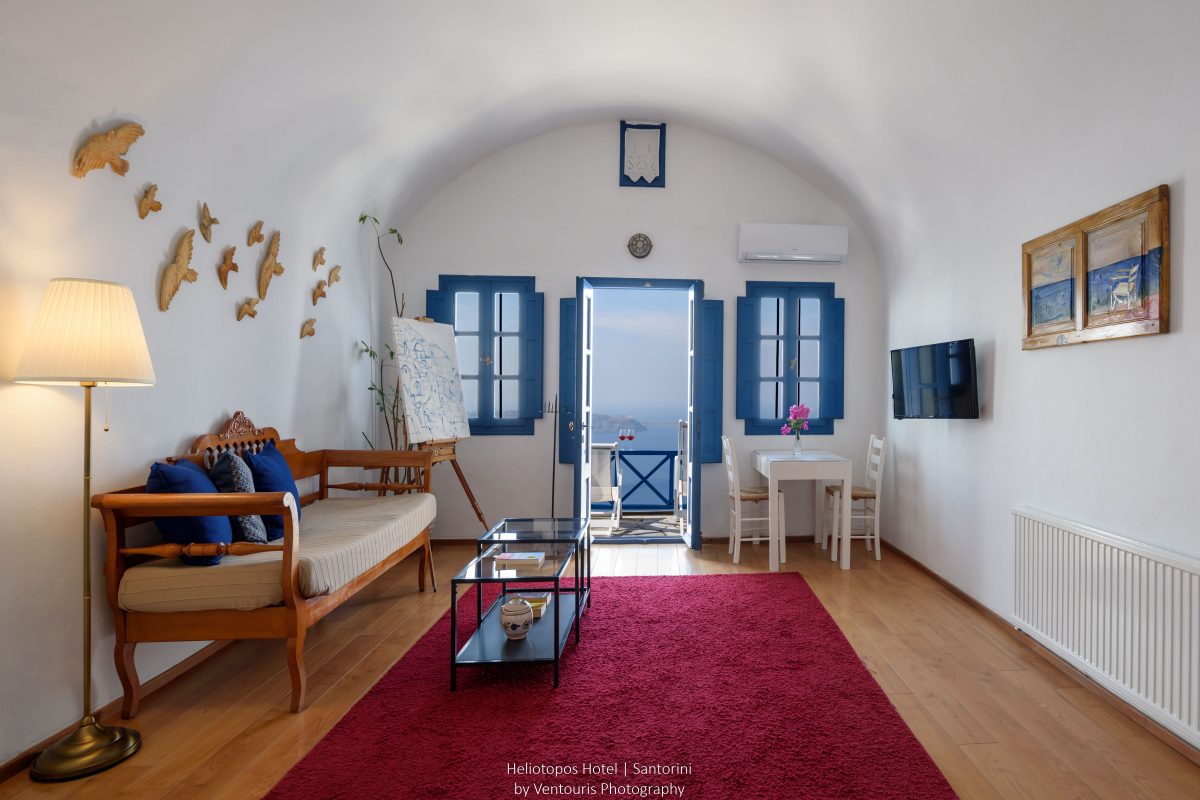 Avoid hotels with many rooms that can get crowded. Avoid no-service Airbnb too, as on this trip you will need to know someone is here for you if something goes wrong! The silver lining lies on the boutique hotels of Santorini, with minimal staff and less than 20 rooms it will never get crowded. Make sure you check their special COVID-19 measures and ask them about flexible cancellation plans before you complete your reservation.
2. Visit quiet beaches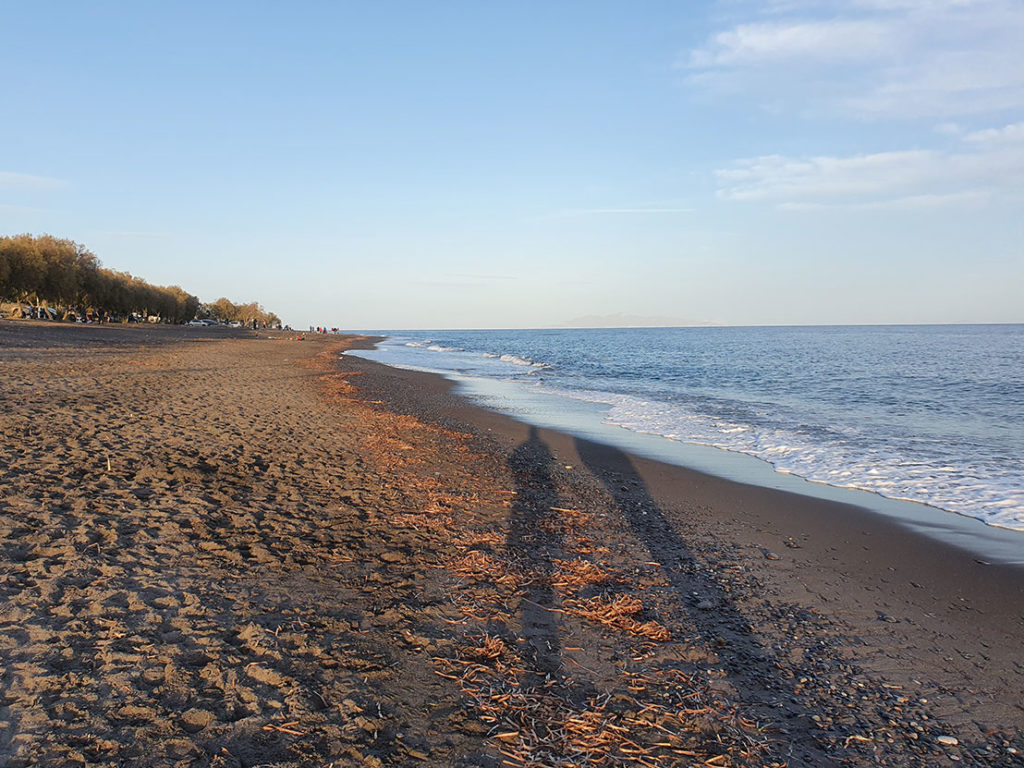 There are a few popular beaches in Santorini, some because of their unique terrane, some because they are organised with umbrellas, bars and restaurants. The most crowded ones are Kamari, Perissa – Perivolos, Vlyhada and the Red Beach. All of these have crowded and not-so-crowded spots, so if you wish to enjoy some beach time there you can do it safely too. Other, not so famous beaches, are Vourvoulos, Exo Yalos, Baxedes and Panagia Kalou. Keep in mind that these are not organised beaches so you might need to bring your own umbrella. It is also better to avoid them when it is windy, as they are exposed to the North winds and can bring waves or look like they are not clean because of the sand getting stirred from sea currents.
3. Visit Oia in the morning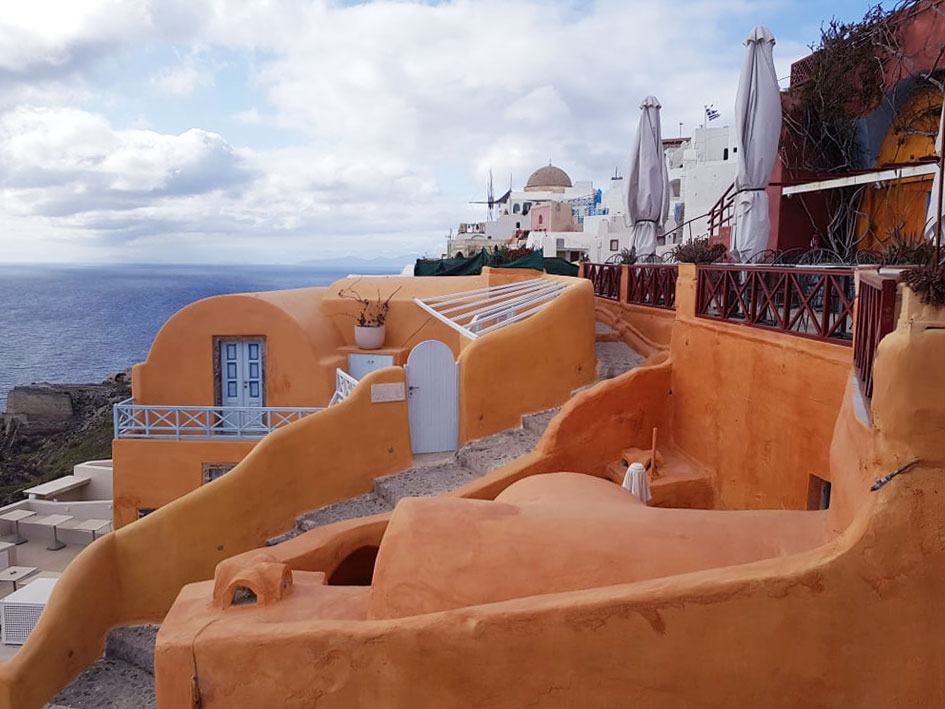 Oia village is very popular for it's sunset, because sunsets are pretty and Oia is a beautiful village. For this reason, it gets very crowded during sunset time, which is both dangerous and annoying when there are so many other fantastic and quiet spots to watch the sunset from! Oia is built along the path that connects it with Fira. Make sure you discover the alleys around that path though too, as this is where you will find hidden treasures of abandoned Captain's houses and bars/restaurants that offer good price/quality ratio.
4. Watch the sunset from a remote location on the cliffside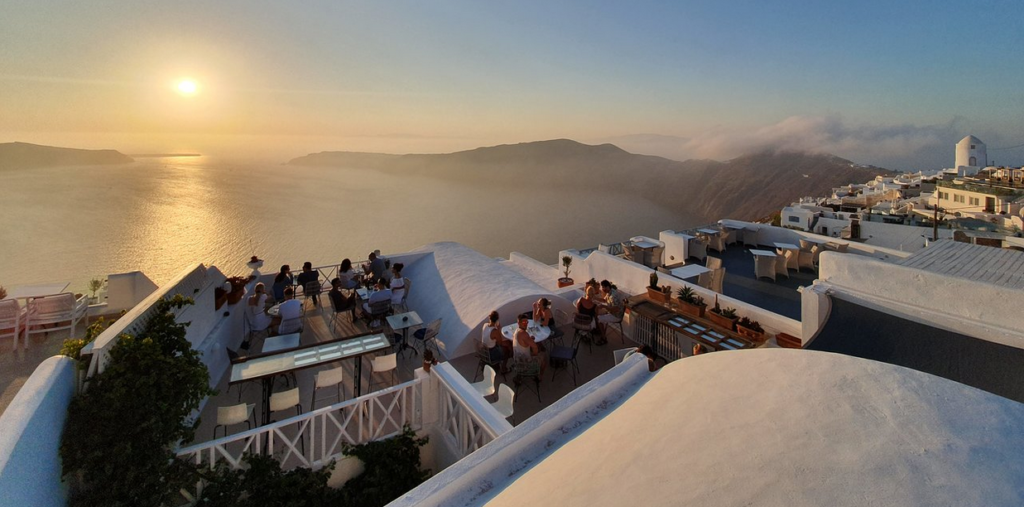 There are many, quiet, spots to watch the sunset from on the island. One example for the perfect sunset admiration, is the terraces of The Wine Bar, in Imerovigli village. Reserve a table and enjoy your dinner or drinks with fantastic views of the caldera and sunset, while keeping your distance from other travellers!
5. Eat at outdoor restaurants that follow the health and safety rules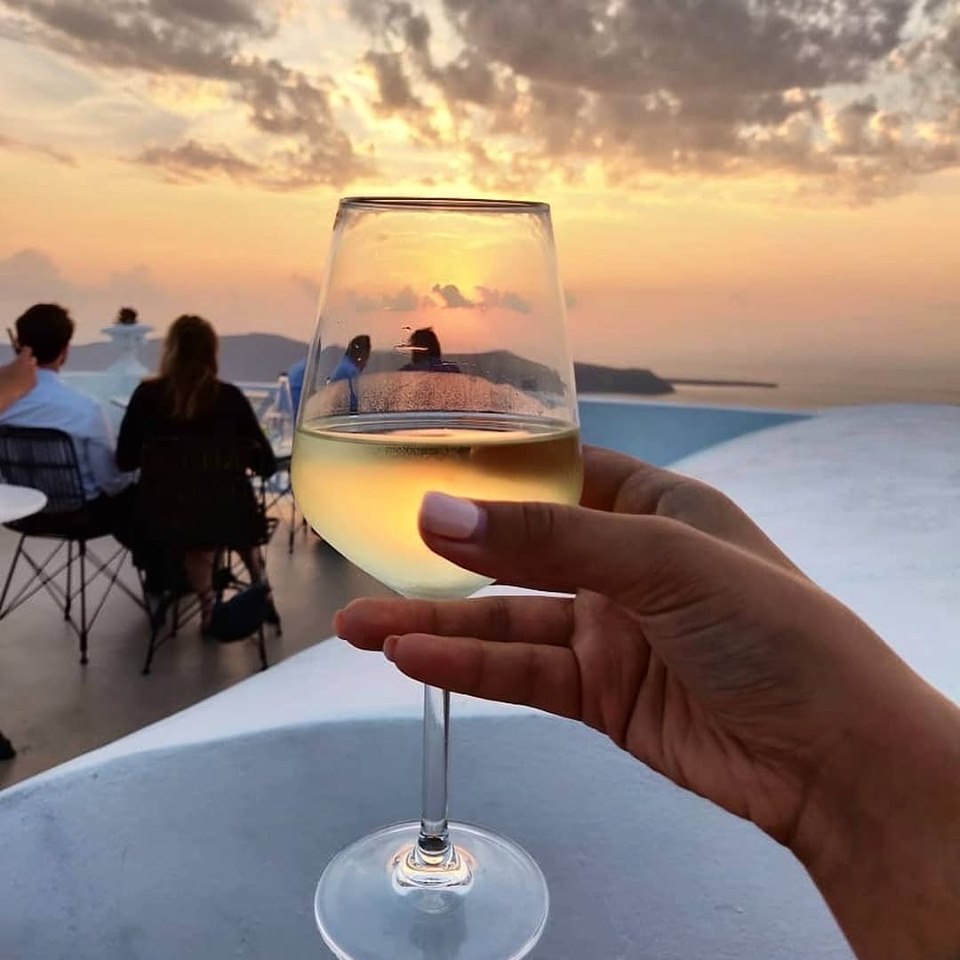 Since we mentioned that beautiful place, keep in mind that bars and restaurants are now officially allowed to operate indoors too in Greece, with their tables in a safe distance between them. Our suggestion? It is summertime, head for an open air restaurant that keeps the proper distances and you will be safe to enjoy your time there without needing to look over your shoulder checking if someone is breathing on your back!
6. Visit the lighthouse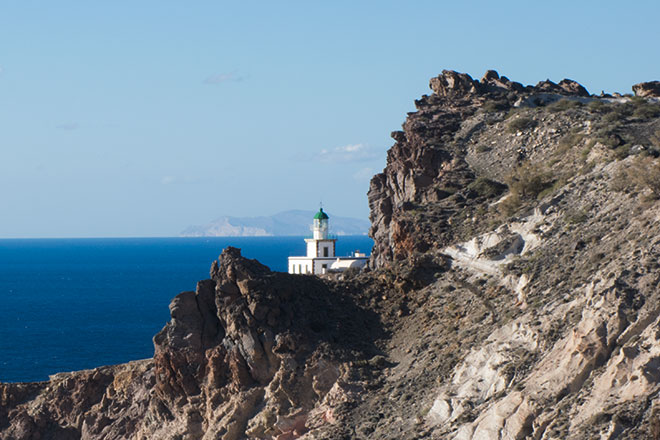 The southern tip of the island, the Lighthouse (or Faros, Φάρος), is one of the above mentioned magnificent spots to view the sunset. Completely open air (of course) and not so much known as the Nothern edge of Santorini, Oia village. Even if you don't visit for sunset, the views it offers are very unique. This is one of the things that make us adore Santorini views, no matter if you saw the view from one spot, head to another and you will feel like you are in a different place!
7. Visit wineries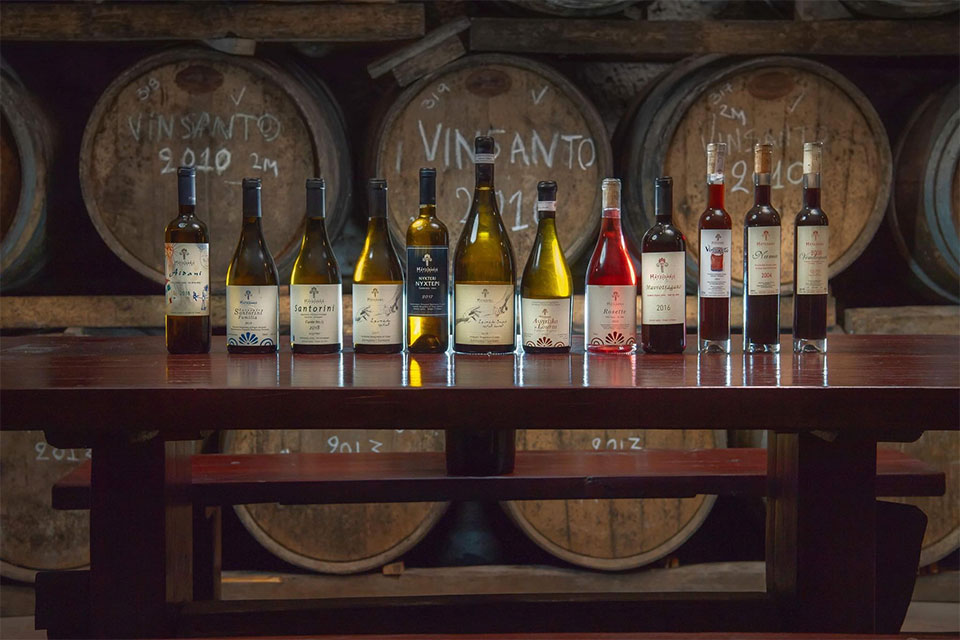 There are over 14 wineries on the island to choose from! Whether you are a wine enthusiast or not, trust us and head there for a wine tasting, or a tour in the vineyard. The anhydrous, volcanic terrain of Santorini island, has allowed for very unique wines, awarded around the world. Bonus: Santorini is the only place in Europe not affected by Phylloxera, a disease that killed all the vineyards the previous century, so some of the vines in Santorini are hundreds of years old!
8. Explore forgotten villages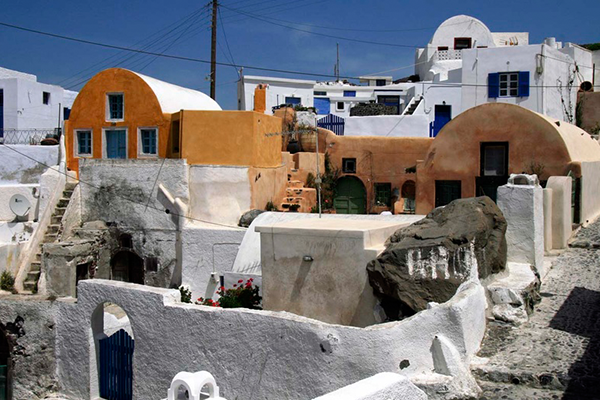 If you have done some research before you visit, you have probably already heard of Oia and Fira for their views and shopping, Imerovigli for its restaurants and sunset views and Akrotiri for its excavations site and the Red Beach. How about the not-so-popular-but-equally-beautiful-villages of the rest of the island? They are there too, they are just not so much featured in Instagram and Pinterest. Walk around the alleys of Finikia village, climb Pyrgos hill, get lost in Emporio to end up inside a hidden village the Kastelli. Santorini has villages that are very different between them. Avoid the crowds and explore them! If later you don't have time to visit the more popular villages too, we will send you pictures of them for your file! Besides, you will have fallen in love with Santorini already, so you are probably coming back one day.
9. Take long hikes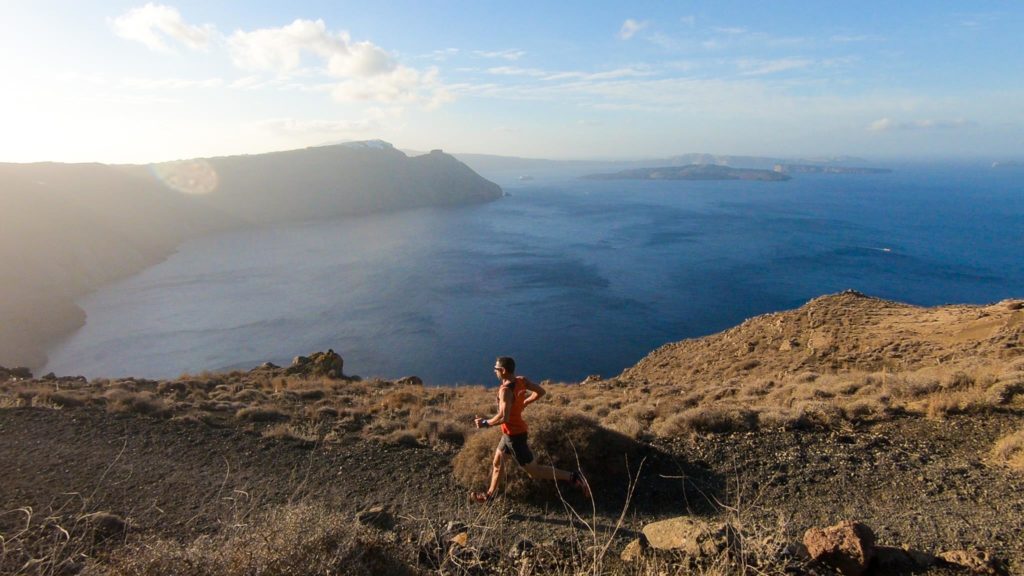 Santorini has many (many) hikes to take. Fira to Oia, Pyrgos to Perissa, Pyrgos to Emporio, Imerovigli to Skaros rock are just the tip of the iceberg. Get your Santorini hiking map and walking shoes and discover the unseen side of this volcanic island in 25 hikes!
10. Join private tours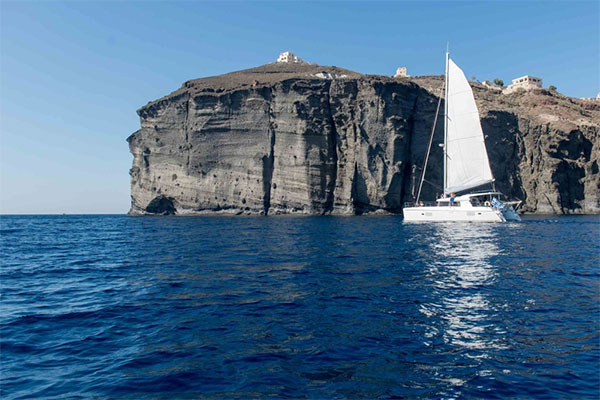 No one knows if public tours will even be available this year! Stay on the safe side and book a private tour. You will be able to stop for as long as you like, wherever you like. May that be a wine tour, a hikes tour, a cruise or a land tour, the options are unlimited.