You ask, we deliver! The time has come for the second wave of lovely people that decided to drop everything and start over in Santorini. The nice thing about dreams is that they can come true! All you need is determination and effort and, who knows, maybe you could be in this list next!
5 (more) Non-Greeks that live and work in Santorini:
Kostas Savvas – Australia – 15 years in Santorini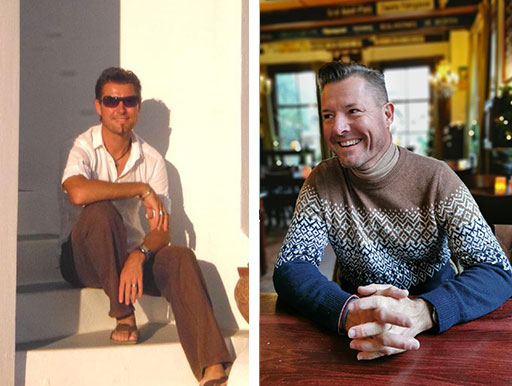 How and when did you end up in Santorini?
Originally from Sydney Australia, I first came to Santorini on holidays with my wife in 2000, we stayed in Finikia in a small family run hotel on the caldera, & that trip sparked a romance with this whitewashed island. We returned again in 2004, this time we chose to stay in Firostefani, to be closer to Fira but far enough away to enjoy the peacefulness of the caldera. It was on our return to Santorini that we both thought "how nice would it be to live here" as I think most tourist think of while visiting the island.
After major life-changing back surgery in 2004, & spending a long time in recovery, my wife & I decided that a lifestyle change was in order. Cutting a very long storey short, we packed-up our house, sold our very successful Hair & beauty salon in Sydney, & made temporary laps of sanity decision to embark on our trip to experience a new life in Santorini. This was meant to last for three years, 15 years later, I'm still here & I now consider Santorini my home. If was by no means an easy experience, & at times I wished for my old life back in Sydney, but through the support of a handful of local Santorinians & some amazing Greeks from the mainland who also live here, somehow I've managed to stay.
What do you do in Santorini for a living?
I am a hairstylist & photographer, so the most logical move was for us to start catering to the growing wedding market on the island, 15 years ago it was a small market, but as time passed, it's grown larger than I could have ever imagined, I now have the amazing opportunity to meet incredible people on the most beautiful day of their life.
You can see Kostas's work on his website
Nathan Crisp – UK – 3 years in Santorini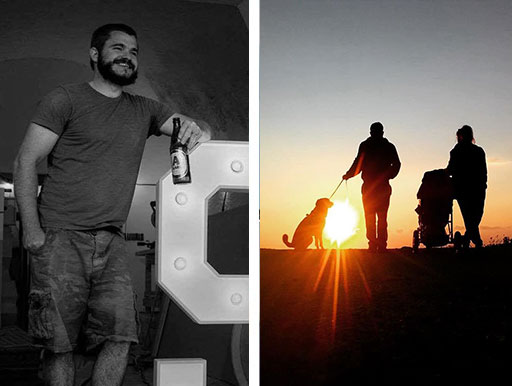 How and when did you end up in Santorini?
Santorini has always held a special place in our hearts! It began when i met Irini in 2005, we were both at university studying Architecture. Luckily for me we were put in the same flat. Flatmates quickly turned to mates and then to soul mates! Irini's family are originally from Santorini and each summer we would visit the beautiful island. We got engaged here in 2013, married here in 2015 and finally swapped the grey of Woking for the blue of Santorini and moved permanently in 2017.
What do you do in Santorini for a living?
We operate Illuminography, a small wedding decor company supplying items such as light up letters, back drops, neon signs and creating bespoke designs for our wonderful brides and grooms. Irini runs the show, taking care of bookings, design, accounts, social media, website, research and development etc. etc….  I carry things up and down lots of steps to venues like a donkey and try not to break things!
You can see Nathan's work on their website
Lina Ponomariova – Georgia – 7 years in Santorini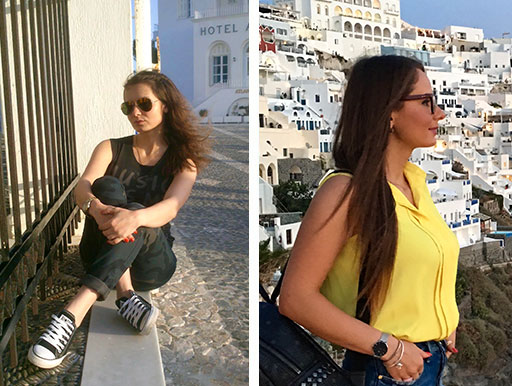 How and when did you end up in Santorini?
Being a young newlywed couple, my husband and I ended up with a financial crisis and a huge amount of loans at the bank! We moved to Greece to start a new life and get the chance to pay back on the loans. I had a friend here on the island so he helped us start our new life in this magical place ?
What do you do in Santorini for a living?
I found a job on my very first day on the island at a store in Fira. At the beginning was difficult and unusual the tempo of the island, the life without my friends and family. But slowly I started to follow up to the new life of Santorini. After a few years I started feeling as if I am at home. The last four years I work at "Source" as a saleswoman. My job is my second home and I feel very happy. For me, it is very important to do whatever you like to do. I hope one day I will have my own store.
You can find her on Facebook and Instagram
Jacqueline Esselaar – Holland – 32 years in Santorini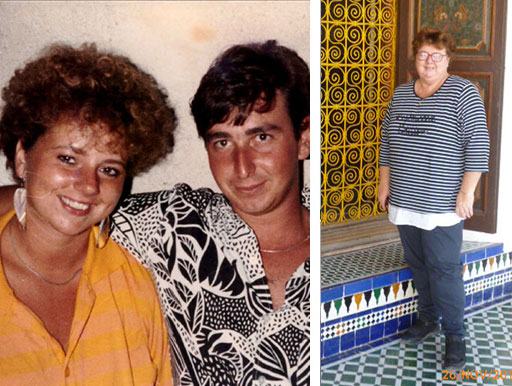 How and when did you end up in Santorini?
I came on a holiday in 1984 with my childhood friend Ruth and we spent one week on the camping in Perissa. One of our homosexual friends told me that all Greeks love men, to which I did not agree and we made a bet…….who could seduce our cute table waiter first…….I won……. over a beer!!! Keeping in contact for a few years, I finally decided to make the big step on 11 January 1988, when I was 24 years old and moved to Santorini permanently.
What do you do in Santorini for a living?
I now am the reservations manager for a medium-sized hotel in Fira town "Aressana Spa Hotel and Suites". I have been working there for 20 years now. I married my holiday love in 1992 and we have 2 sons. I am living longer on Santorini than I ever was in Holland !! 30 years here and 24 years there !!
You can find Jacqueline on facebook.
Andrija Markovic – Serbia – 19 years in Santorini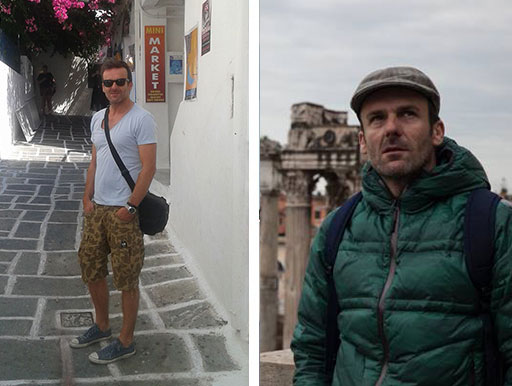 How and when did you end up in Santorini?
I am originally from Serbia where I studied law. After a third year of law, I went to Greece on holiday. I had a friend on Santorini, so I decided to come here. It was July 2001. I fell in love with it pretty fast and decided to stay. I still love it as much. My most favourite thing about it is the smell of ripe figs and blooming oregano by the road. And the fact that is Saturday night- every night helps a lot.
What do you do in Santorini for a living?
In the beginning, I worked in restaurants as a waiter. In 2008 I attended the San Francisco school of digital filmmaking. Shortly after that, I started to shoot weddings in Santorini. I am a wedding photographer and cinematographer. My vocation is to capture life's most fleeting moments by camera. For me, each couple is exceptional and I am excited with my job.
You can see Andrija's work here and here.