Attention Wine Lovers: Anhydrous Grace 2022, a delicious rose wine, one of the most popular rose wines from Santorini was just released!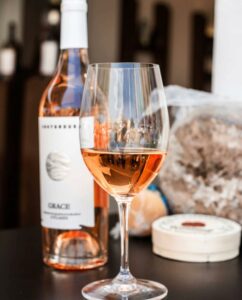 It presents a refreshingly dry style with a 13% vol alcohol percentage and displays delightful aromas of red small fruits, raspberries, and cherries on the nose. This pale onion peel-colored wine has a medium-high acidity with a feeling of freshness and a fruity aftertaste.
The perfect accompaniment for any Mediterranean dish, Anhydrous Grace 2022 rose would be best served at 12°C. From its grape varieties Mandilaria and Aidani, this beautiful dry rose can impress even the most discerning wine lovers from Santorini.
Enjoyed between peaks of flavor as you savor its balanced character, Anhydrous Grace 2022 will provide an elegant yet enjoyable drinking experience; an exquisite refresher to accompany your summer days and nights.
Order online here and enjoy!