Following the tradition, every year Santorini island remembers the eruptions that made it what it is today. This year's "Ifestia Festival" (or the "Volcanoes Festival") will be held during the third weekend of September, with cultural events and concerts leading up to the main event of the festival.
On the night of the 16th of September, 2017, a spectacular compilation of fireworks and fires will make the volcano "erupt" in a simulation of the real volcanic eruption that formed Santorini. Each year the show varies sightly, making it a unique experience. Starting at about 20:30, the show usually begins with small fires on the volcanic islands (Palaia and Nea Kameni) that resemble the melting lava. This is followed by hundreds of fireworks exploding in the sky, one after the other, each one bigger than the one before, leaving the whole caldera in awe.
Watch the Volcanoes Festival away from the crowds
As crowds are gathering up on the rim of the caldera, take the chance to watch it from the sea in a cruise that you will remember for years! Blue Cruisers is offering their sunset cruise, with a twist.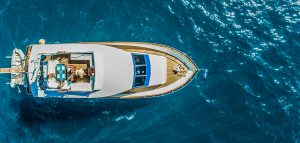 The cruise will start at 15:30 heading to Red Beach, White Beach, volcano islands to swim at the Hot Springs and then extending the cruise after the sunset to join the Volcanoes Festival show. At the same rate as their classic cruise of 155 euros per person, the cruise will include a visit the Red Beach and the White Beach admiring the special beauty of these places unique to Santorini. Your yacht will then cross between Nea Kameni in the new volcano and Palea Kameni the old volcano. You will have the opportunity to swim at the Hot Springs and a beach selected by your captain. A buffet dinner will be served and your captain will choose the best location for you to experience a magnificent Santoini sunset.
The buffet will include, Greek salad, tzatziki, stuffed vine leaves, fava, shrimps and spaghetti.
We advise to book your seats in advance, as the total number of guests that can attend are only 20! You may reserve your seats following this link:
Reservations are now closed
If you wish to book a private cruise for the event, or if more than 6 persons are looking to participate, please contact us at tours@santorini.net to make the necessary arrangements.