After the great success of its revival in September 2022, Selene Vedema is evolving once again into a yearly institution, celebrating the Santorinian vineyard and its people in the magical setting of Selene Restaurant.
It was over a decade ago that the late Giorgos Hatzigiannakis, creator of the emblematic Selene restaurant, brought to life the first Selene Vedema*. A celebration of the unique wines of Santorini, which was destined to become one of the most famous wine exhibitions in Greece, if not the world. But the Selene Vedema was much more than just a wine festival, it was the unitive initiative that brought together all the wine makers of Santorini, coexisting and collaborating under the same roof, and most importantly serving the same purpose: making the island's wines known to the world.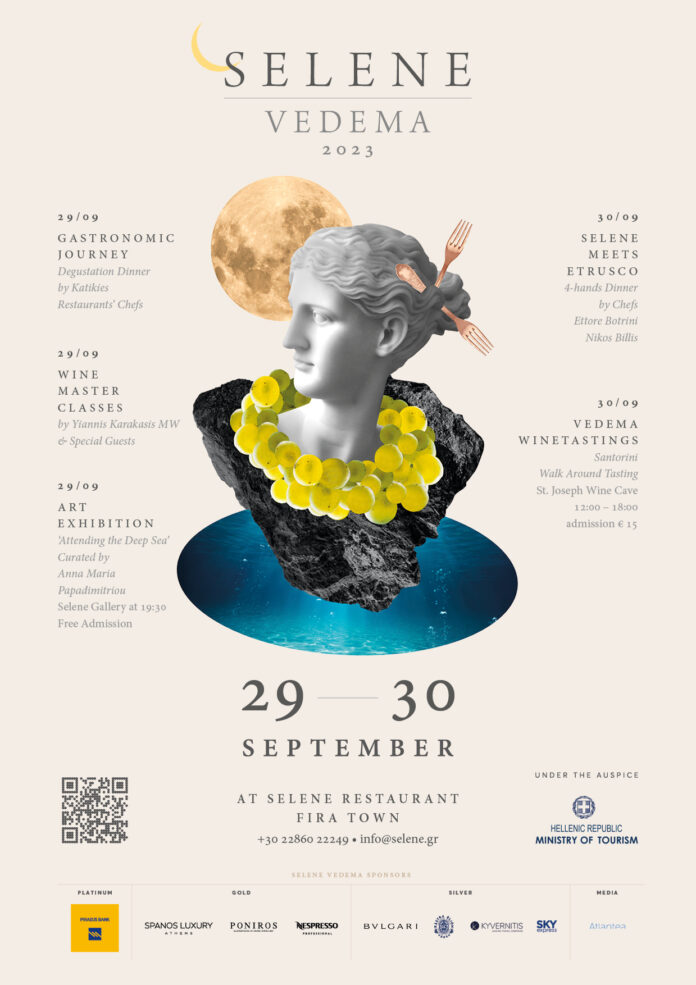 PROGRAMME
Friday, September 29
1) Wine Masterclasses
Assyrtiko vs Burgundy
Masterclass by Yiannis Karakasis MW & Mark Andrew MW at St. Joseph Wine Cave (13:30 – 15.00)
Santorini Nykteri: Exploring the essence of oak in contemporary Santorini wines
Masterclass by Yiannis Karakasis MW & Mark Andrew MW at St. Joseph Wine Cave (17.00-19.00)
2) Art Exhibition
Attending the Deep Sea, curated by visual artist Anna-Maria Papadimitriou.
The sea-themed painting exhibition is opening at Selene Tunnel (18:30 – 22:00)
3) Katikies Gastronomic Journey
All Katikies Hotels' chefs are joining forces, always under the guidance of Executive Chef Ettore Botrini, to present a unique 12-course dinner inside the imposing ambiance of Selene, offering guests the chance to enjoy the most famous dishes of all Katikies restaurants (Selene, Botrini's, Therasia, Koukoumavlos).
Saturday, September 30
1) Exhibition Selene Vedema at St. Joseph
Santorini wine exhibition & tasting at St. Joseph Wine Cave (12:00 – 18:00)
2) Four Hands Dinner
Selene welcomes Etrusco
Selene's Michelin-starred Executive Chef, Ettore Botrini, and his closest collaborator and head chef of multi-awarded Etrusco Restaurant for 10 years now, chef Nikos Billis, will be jointly presenting a tasting menu which brings together the cuisines of the two emblematic restaurants in one unparalleled gastronomy experience. The amazing wines accompanying the dinner will be selected by Yiannis Karakasis MW. (Selene Restaurant, 19.00-23.00)
For more information and reservations click here