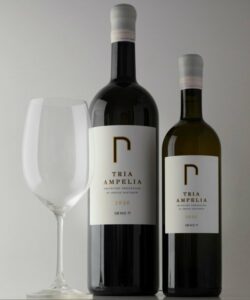 Tria Ampelia (Three single vineyards) is a brand new wine originating from three single vineyards on the island of Santorini and the vines are, on average, over 60 years old. This wine is fermented and matured sur lie for 16 months in 750 & 1600 lt amphoras. It is unfiltered and it also has great aging potential. Tria Ampelia is the first label of Paris Sigalas' new winery OENO P.
OENO P is based in Baxedes, in Oia, at the exact same place where was once the traditional wine cellar (kanava) of Paris Sigalas' family, later housed the first steps of Domaine Sigalas winery, which was founded in 1991. Seven years later, a production unit for bottling and aging was built in the vineyard of Oia and the Domaine Sigalas moved to this new privately owned space where it operates to this day. Today, it is an expanded and modernized kanava, and Paris Sigalas aims to continue his research and highlight the great potential of this unique vineyard.
Order Tria Ampelia online here!