Colour: White
Style: Dry
Wine region: Santorini
Grape: 100% Assyrtiko
Vintage: 2018
Alcohol percentage: 14% vol
Closure: Cork
Unit quantity: 750ml
Wine maker's notes
Ungrafted non-irrigated vineyards

VINIFICATION
Type: White
Method: Handpicked grapes were placed in cold room overnight. Direct pressing of the grapes
followed by fermentation under controlled temperature 17–18˚C with indigenous yeasts.
The wine matured on lies for 12 months in stainless steel tanks and was bottled unfiltered.
AGEING
Tanks: 12 months
Ageing process: None
TASTING
Soft yellow color with golden shades. Aromas of white flowers and citrus fruits. The muscular character on the palette with vibrant acidity. Shows length in the finish with loads of minerality. Served with: Needs deep-sea fishes, meats as chicken and pork, could be great with creamy cheeses too. Better served at 12-14˚C.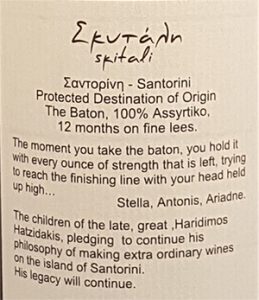 Tip: The shipping cost per bottle drops significantly the more bottles you buy. Join forces with friends and family to buy more bottles and bring the cost down.
Important notes:
-It is an offense to purchase or attempt to purchase alcoholic liquor if you are under the age of 18.
-The price includes safe packaging cost

About Hatzidakis Winery
Hatzidakis winery was founded in 1997 by Haridimos Hatzidakis and Constantina Chryssou.
In 1996, Constantina showed to Haridimos the vineyard of her family. This vineyard is located at the village of Pyrgos Kallistis, on the way to the monastery of "Profiti Ilias-Santorini". It is situated 330 meters above sea level. The vineyard was abandoned for many years, as Constantina's parents, George&Aikaterini Chrisou had left the island because of the earthquake in 1956 and had moved to Athens as many locals did at that time. Until 1996, the vineyard remained uncultivated. Haridimos was the first who took the decision to re-cultivate the vineyard and the rest is history. The vineyard was cultivated with Aidani which is an organic grape variety.
When Constantina and Haridimos visited the vineyard, Haridimos spotted a cave at the end of it. "Over here, we can create a "Kanavaki", he said. "Kanaves" is the local name for wineries. Thus, a small underground Winery started to shape which was built with patience, persistence, enthusiasm, passion, with "meraki" as we say in Greek and hard work. And the dream came true!
In 1998, the first bottles of wine, vintage of 1997, were released from that new Winery. "Santorini" wine, vintage 1997, from the white grape variety Assyrtiko and "Mavrotragano" wine, vintage 1997, from the Mavrotragano grape variety of Santorini were the first two wines to be produced.
Today, Hatzidakis Winery cultivates 100 acres of vineyards and most of them are organic.